The well known Norwegian Religious historian and Middle East expert Kari Vogt criticized the Norwegian MPs invitation to Maryam Rajavi, the leader of MKO terrorist group.



Although the U.S. has put MKO on its terrorist list, they make use of the organization. Kari Vogt explains the issue: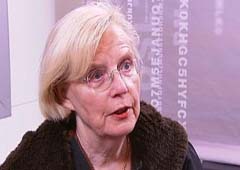 First, it operates as US intelligence service in Iran what people of that type can do the best.
Secondly, MKO's military capacity, which the Americans can take advantage of, and give them free passage.
Since the United States disarmed MKO after they occupied Iraq they have obviously invested a great deal, "says Vogt.
In the debate on Saturday she warned not to support the People's Mujahedin. She said they have no credibility as champions of democracy and human rights, because they are an organization in exile, who are considered traitors among democracy advocates in their home country.