The comic play of hunger strike is still going on in camp Ashraf!
While 54 days have passed the hunger strike by some Ashraf residents – according to Rajavi's propaganda system – the show is still on the scene without any mortality. If was a true hunger strike, it would end with death of about twenty people of those residents but fortunately there is no news of death of fasting members. This illogic outcome denounces the reality of the so-called dramatic hunger strike.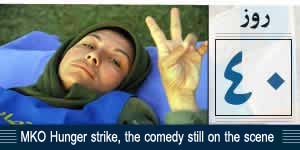 Hunger strike, back ground, type and the measure of casualties
Hunger strike is a method of practical protest. It is like a suicide – sometimes even after hunger strike is finished, the side effects affect the person's life and prepare the body for further diseases –since the disorder of natural metabolism of body weakens the whole organs.
Hunger strike includes two types: complete and dry.
In a complete hunger strike the participants do not eat or drink anything, in this case the hunger strikers will only survive for 36 to 72 hours. In a dry hunger strike, the protester only drinks beverages like water, juice, milk … in this case; the maximum resistance to death will last for 35 to 40 days, depending on the measures of the persons' biological power. The hunger strikers will reach an unreturnable point after 35 days.
As the MKO's propaganda claims, on September 5th, the doctors recommended about 15 participants to stop their hunger strike because they were going to reach the unreturnable point! If the claim had been true, at least a number of those hunger strikers would have died until now, but there have been no news on the death of any of those participants yet. The current situation shows that the few people who were on hunger strike, were just playing a dramatic show.

As usual the leaders of the group use such without – audience false play as a political chantage. Although the victimization of a number of the group's dissidents is not far from possible, the evidences clarify that this fruitless show is another sign of crisis mongering policies of Rajavis' Cult.
I have previously notified that this propagandistic show has a few participants who attend the show in turns! to be filmed and photographed. Naturally, their illegal demand will not succeed and the death of each participant, regarding the organized movement of the group, will just thicken their terrorist file of June 17th 2003.
The continuance of the show will not only end with the group's success but also will be a shameful, funny game for them. I suggest the leaders of the terrorist cult of MEK that they stop their comedy as soon as possible, instead they begin negotiating with Iraqi government in order to get a non-violent ending for Camp Ashraf residents.
I'm so happy to see my deceived, mentally captured compatriots living but their appearance never shows that they've been fasting for 54 days.
The criminal leaders of MKO terrorist cult defeated in their new show. They should stop their deceitful show and submit to decisions of Iraqi government. They should accept that no common sense will be deceived by their tricks. Instead of launching their propaganda campaign, they should try to transfer Ashraf captives to a safe place. The group's propaganda system spent too much time on attacking Iraqi government for its legal acts although it seems that if the group cools down, the Iraqi government still respects their human rights and tries to end up group's fate in a peaceful manner.
The leaders of the cult have no more option other than cooperation with Iraqi authorities to solve their problematic situation in Iraqi territory. They have to moderate their demands of Iraqi government. Otherwise they are the only responsible for the lives of those suffering hunger strikers.
A.Minoo Sepehr – Translated by Nejat Society