International Committee of Red Cross (ICRC)
Dear Sir/Madam
With respect,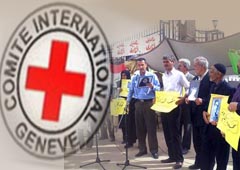 We the families of the people taken hostage inside Ashraf Garrison have been picketing outside the gates of the camp for the last four months in a bid to have free and unfettered access to our children. Unfortunately, the leaders of Mojahedin Khalq do not cooperate in any way and resist allowing us to meet our children. They have now started issuing false claims in the Iraqi and international media claiming that we are a threat to their security and that we mean to harm our own children! This is absurd. Would sick and elderly mothers and desperate pensioner fathers or brothers and sisters who are worried about their siblings have any bad intention against their own loved ones?
We only want to meet our children in a free environment and ask them about their situation and perhaps be of some comfort to their deep wounds.
Anyone who has a child may understand the pain and suffering of the people in both sides of this garrison.
Dear Sir/Madam,
Do you know that many of these captives are POWs from the time of Iran-Iraq war who have been literally sold by Saddam to this organisation? Do you know that many of these captives have been deceived and brought against their will to this Dark Ages garrison? Do you know what has happened to the innocent children in this organisation when they forced them to leave their parents and have been brought up in other countries and now have been transferred back to the camp? Do you know that many are seriously ill and don't you think it is better for them to get medical help through their families now? Do you know that some of these detainees have suffered some kind of imprisonment for about 30 years? Whether Saddam's prisons like Abu Ghraib prison or the prisons inside camp Ashraf? Do you know some have not even had telephone contact with their families for the last twenty odd years? And do you know that some of the families did not even know that their children are alive until now that they have found out that their loved ones were not allowed to contact them? These are some examples of the suffering which needs much more than a letter to explain.
We are begging your humanitarian organisation to help us visit our loved ones outside this garrison so that some fathers who have been now abandoned by doctors (having not got a long time to live) could see their children for the last time.
May God help you, us and our long suffering children.
Families picketing in front of Camp Ashraf, Iraq, May30, 2010
original letter (persian):