Nejat Society meeting in Tehran
On January 16th,2011, a number of families who are members of Nejat Society Tehran Branch attended a meeting where three recently defectors of MKO, Hamid Hajipour, Akbar Mohebi and Muhammad Bagher Keshavarz analyzed the most recent situation in Camp Ashraf Iraq.
Nejat Society official in Tehran described the presence of families at Ashraf gates as effective and positive to encourage captured members to escape the cult of Rajavi. They also notified that other families of Nejat Society are so eager to join their peer at Ashraf gates.
The defectors who had been captured by MKO dictatorship for more than twenty years assured the families that families strike at Ashraf gates is like a message of love and hope for captives of Camp Ashraf.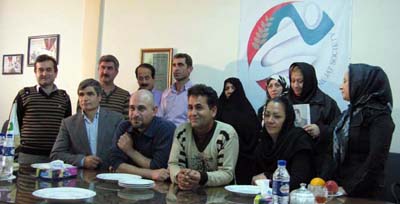 Families, for their part, shared their memoirs of their loved ones with dissociated members.
During the meeting, it was decided to send a new group of Tehrani families to Iraq. Besides, participants signed a petition to UN Secretary General and UN representative in Iraq asking that their letters be delivered to their children directly by UN or ICRC's representatives. They also asked for release of their children as soon as possible.