These days, news based on MeK interactions is about UNHCR statement on handling asylum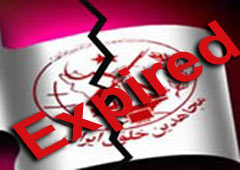 applications of Camp Ashraf residents.
UNHCR has entered to the issue with the legal preconditions for individual interviews with the troops, an event that if done, could be considered as retreat of MeK from the unreasonable and illegal demand of mass refugee, the inquiry which was asked until recently.
According to the international laws, international institutions' Work areas should not violate the sovereignty of states. Undoubtedly, MeK leadership has welcomed the UNHCR intervention in order to find a way to abuse, but soon he will not tolerate the interference of international organizations.
Entry of international organizations to this issue will provide arrangements and conditions for adjudication of Ashraf residents' personal rights, the matter that is strongly opposed by MEK leadership, so he will try all his efforts to abrogate it.
In this area there are numerous issues that must be addressed, but the very important point in this regard is that it was proven once again that Mujahedeen should Adopt civilized behavior, also they should stop medieval and sectarian relations, even for survival of themselves.
Note this statement of Mr. Struan Stevenson, a Scottish conservative in the European parliament:
I hope that individual requests for refugee status would lead to resettlement of Ashraf residents in the European Union and in third countries.
They have long since given up any pretense of being a military force and they have long abandoned any idea of remaining together.
MeK's 8 years of futile efforts to gain Western support reveal that the world does not accept a terrorist group and a violent cult.