As a terrorist organization closely allied with Saddam Hussein, MKO should not be considered as serious as any other source. Relying on news sources like MKO terrorist cult, is just like using the information of a news agency that absolutely lies or exaggerates incidents in order to run their own cause: regime change in Iran. Therefore every time the IAEA went on discussing the Iranian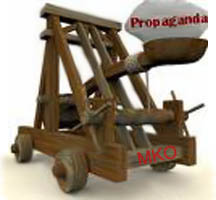 nuclear program, MKO's propaganda machine set off for repeating their old allegation to "reveal" "clandestine" nuclear activities of Iran. MKO has almost very little information on Iran's nuclear program and this little part is also known to the world. The only thing MKO do is to repeat and exaggerate the same words from time to time showing photos of Natanz installations with explanations by Ali Reza Jaafarzadeh. As Michael Rubin says in his famous article"Monsters of the left"; "The MKO is masters of propaganda …[but] terrorism, the deliberate targeting of civilians for political gain, should never be acceptable".
 There are some special phrases usually used by MKO members and supporters such as " democratic alternative", "democracy in Iran", "human rights", "freedom" … to  represent a misleading image of the cult of Rajavi but as Michael Rubin exactly defines them :" Many "monsters of the left" use the rhetoric of democracy to realize their ambition. Masud and Maryam Rajavi and the organization over which they exert  dictatorial control, are no exception."
In 2005, when the Human Rights Watch published the detailed report on human right abuses committed by MKO, the organization launched a large champagne to say that the report was due to a plot between the HRW and the agents of  Iranian regime! And of course the HRW didn't stay quiet and gave a response to such allegations. According to MKO's ideology anyone who is not with MKO is with the Islamic Republic.
MKO's disinformation quest is working hard to deceive European and American politic men by their propaganda including their campagne to remove the name of the cult from the UK's terrorist list. They are still on the State Department's list of foreign terrorist organizations although they allege that MKO was listed as a terrorist group due to Clinton's appeasement policy towards Iran.
Although there are some allegations on the clandestine support of some Pentagon officials for MKO but you never forget that in his pre-invasion speech before the American operation against Iraq, President Bush said: "Iraq shelters terrorist groups including Muajhedin-e-Khalq, which has used terrorist violence against Iran and in the 1970's was responsible for killing several US military personnel and US civilians." 
The MKO exaggeration policy is also an important factor to run their propaganda machine .When in MKO websites the number of the participants in one of the groups gathering is reported as 40'000, the credible news agencies such as Washington Times reports 300 participants.
Therefore MKO's propaganda machine distorts the truth, fabricates false information, repeats and exaggerates the clearly known realities.