The family members of victims of MKO terrorist attacks have cautioned the EU against becoming the organization's "partner in crime".
"As victims of MKO terrorism, we advise the European Union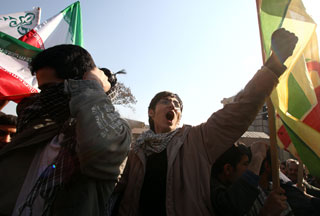 not to turn into the group's collaborator in their atrocities against the Iranian nation," reads a statement from the family members.
The victims had gathered in front of the British embassy in Tehran in protest at a recent decision to remove the group known as the 'Rajavi cult' from a list of banned terrorist groups in the EU.
"When Masoud Rajavi and his group launched their terrorist attacks in Iran in 1981, European counties not only did not condemn their atrocities but also gave them refuge in their countries," adds the statement.
The Mujahedin Khalq Organization (MKO), which identifies itself as a Marxist-Islamist guerilla army, was founded in Iran in the 1960s but was exiled some twenty years later for carrying out numerous acts of terrorism inside the country.
The terrorist group is especially notorious for the help it extended to former dictator Saddam Hussein during the war Iraq imposed on Iran (1980-1988).
The group masterminded a slew of assassinations and bombings inside Iran, one of which was the 1981 bombing of the offices of the Islamic Republic Party, in which more than 72 Iranian officials were killed, including then Judiciary chief Ayatollah Mohammad Beheshti.
"The Rajavi cult has conducted its campaign of terror in Iran with the support of the European governments and from their safe havens inside the European capitals," the families said.
In recent months, high-ranking MKO members have been lobbying governments around the world to acknowledge the dissidents as those of a legitimate opposition group.
During the revolution in Iran, the group criticized Ayatollah Ruhollah Khomeini for releasing the American diplomats, arguing that they should have been executed instead.
The United States and Canada have refused to drop the MKO from their lists of terrorist organizations.
The group has also been engaged in cult-like activities such as psychological coercion techniques and physical abuse.
The group has also resorted to 'forced sterilization' as a strategy to prevent members from leaving the group.