Maliki complains about US-insurgents meeting
Iraq calls US officials meeting with Iraqi insurgents shocking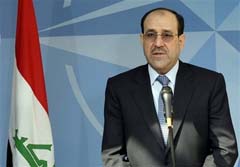 The Iraqi Prime Minister Nouri al-Maliki has complained to the US President Barack Obama about a meeting between US officials and Iraqi insurgents, a Baghdad official says.
Although officials at the US State Department said that they were unaware of the alleged meeting, Maliki implicitly confirmed that he had raised concerns about the issue with Obama.
Commenting on the issue, the Iraqi Foreign Minister Hoshyar Zebari said in Washington that Baghdad found it "shocking" that representatives of the "Iraqi resistance movement," Turkish officials and at least one US official had reportedly met in Turkey in March.
Zebari, however, said that Baghdad was "still investigating" the alleged meeting with the "resistance political council," confirming that the Iraqi government had discussed the issue with US officials, AFP reported.
The Iraqi premier, speaking at the United States Institute of Peace (USIP), said that he was assured that conditions would be attached to any US talks with insurgents.
"The US government and President Obama told us that they will not be tolerant against those who kill the Iraqi soldiers, kill the US soldiers and kill Iraqi citizens," Maliki said.
"So there will not be negotiations by the US government or any of its representatives with those killers," added Maliki, who held his first White House talks with Obama on Wednesday.