An Iran-Iraq POW's Brother pens letter to Iraqi Prime Minister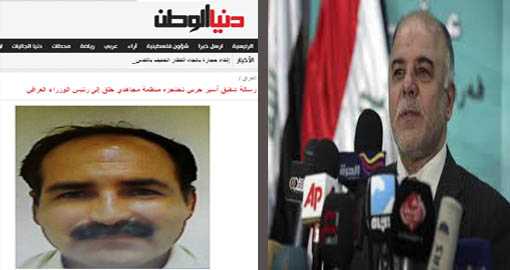 Ali Kalateh Seifari, brother of Ali Asghar Kalateh Seifari, MKO hostage in Baghdad's Camp Liberty, wrote an open letter to Iraq's Prime Minister asking for his assistance to arrange a meeting with his enslaved brother.
The letter published on the Iraqi Website "Donya Alwatan*
In the Name of God
The Honorable Prime Minister of Iraq,
I, Ali Kalateh Seifari, am writing as your Muslim brother to ask you as the highest executive official of Iraq to help me.
My brother ; Ali Asghar Kalateh Seifari was taken hostage by MEK cult on November 22, 1987 during the Iran-Iraq war and he was transferred to Camp Ashraf. He is now in Baghdad's Camp liberty.
During the past 27 years my family members and I, have made several visits to Iraq at the gates of Camp Ashraf and Camp Liberty. However we failed to contact him even by a phone call. I would like to humbly ask you as the highest executive official of Iraq to help us meet with our brother even for a few hours under your supervision but without MEK members' presence.
I wish you and your country's victory over the ISIS . I hope the release of all captives under Rajavi Cult.
Sincerely,
Ali Kalateh Seifari
Brother of Ali Asghar Kalateh Seifari, held hostages by the MKO at Camp Liberty, Baghdad
Cc to
Iraqi President's Office
Iraq's Foreign Minister
Iraq's Interior Minister
Iraqi Parliament Speaker
Iraqi Members of Parliament
Iraqi Media
Translated by Irandidban
* Alwatanvoice.com