The US is "closely monitoring' the aftermath of the Iraqi raid on a base of the anti-Iranian terrorist group the Mujahedin-e-Khalq Organization, an official says.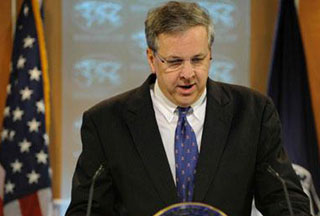 "We've seen these media reports and we're looking into them," AFP quoted US State Department spokesman Ian Kelly as saying.
"We continue to monitor the situation closely to ensure the residents of Camp Ashraf are treated in accordance with Iraq's written assurances that it will treat the residents there humanely," Kelly told reporters at his daily press briefing in Washington on Tuesday.
"This is in accordance with the constitution, laws, and international obligations of Iraq," he said.
"The government has stated to us that no Camp Ashraf resident will be forcibly transferred to a country where they have reason to fear persecution on the basis of… their political beliefs or political opinions or religious beliefs, or where there are substantial grounds for believing they would be tortured," Kelly said.
Iraqi security forces stormed the camp located north of Baghdad on Tuesday.