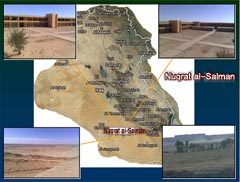 U.S. urges caution with PMOI in Iraq
Washington respects any Iraqi decision regarding members of the dissident group People's Mujahedin of Iran but urges caution, the U.S. State Department said.
Iraqi Prime Minister Nouri al-Maliki said this week that members of the PMOI would be relocated from their Camp Ashraf enclave in Diyala province first to Baghdad and then to a desert outpost in the Shiite south of the country.
The PMOI opposes the clerical regime in Iran. Washington lists the group as a terrorist organization for its violent methods of opposition, though the group surrendered is weapons in 2003 and now claims its policy is based on peaceful dissent.
Iraqi forces stormed the Camp Ashraf enclave when U.S. combat forces pulled out of major cities to their military bases earlier this year. Several Ashraf residents died during the raid.
The group claims Iraqi authorities are acting out against its members under pressure from Tehran.
Amnesty International said Baghdad gave the group until Tuesday to leave the camp or they could face deportation to Iran.
Ian Kelly, a spokesman for the U.S. State Department, said Friday that while Washington recognizes Iraq's sovereign right to exercise authority over group, human rights should be observed.
"Diplomatically, we respect Iraqi sovereignty," he said. "But of course, we're making it clear that we would expect the residents of Camp Ashraf to be treated well and with respect."