U.S. will stick to plan for Iraq pullout – [U.S. monitoring MEK situation at Camp Ashraf]

The United States expects to keep to its plan to withdraw combat forces from Iraq within a year despite a spate of bomb attacks, the U.S. ambassador to Iraq said on Thursday.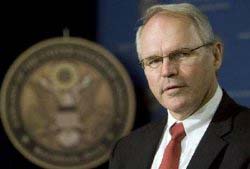 "During this year we'll ensure that our troops are withdrawn on schedule, by the president's timetable," U.S. Ambassador Christopher Hill told the House Foreign Affairs Committee.
In their place would be a "strong healthy relationship between the U.S. and Iraq," he said.
U.S. forces invaded Iraq in 2003 to topple Saddam Hussein and 130,000 troops still remain to help secure the country and train Iraqi forces. They withdrew from urban centers in June.
President Barack Obama has set a deadline of August 2010 for the removal of U.S. combat forces and all American troops are to be withdrawn by the end of 2011. Some 4,300 U.S. soldiers have been killed, tens of thousands of Iraqis have died and millions displaced in the past six years.
Hill said the Aug. 19 bombings that killed nearly 100 people at the Iraqi finance and foreign ministries had been "particularly horrifying" but he believed the Iraqi people rejected a new cycle of violence.
"The bombings in recent months show that we still have to deal with al Qaeda in Iraq that tries to rekindle violence," said Hill, who has been ambassador since April. "To the great credit of the Iraqi people, they have not risen to the bait."
The top U.S. commander for day-to-day operations in Iraq, Lieutenant-General Charles Jacoby, said he believed that most of the high-profile attacks since June had been carried out by al Qaeda, and that any accelerated U.S. troop withdrawal may hinge on whether those attacks subsided.
DISSIDENTS
"It's too early really to say right now whether the operational environment is going to support accelerated troop withdrawals. We'll be ready to do that if we're asked to and if we think that the security environment has improved," Jacoby told reporters at the Pentagon in a video-conference from Iraq.
"One of the questions is how much longer al Qaeda can continue these types of high-profile attacks. They are not frequent … we will see if they punch themselves out."
In the Senate, Foreign Relations Committee Chairman John Kerry said that if Iraqis rejected a bilateral security pact with the United States in a possible referendum next year, "then I believe we have no choice but to withdraw all of our forces as quickly as we can."
Hill also said the United States was monitoring the status of Iranian dissidents who were arrested in Iraq in July when Iraqi security forces moved into an Iranian exile camp.
He said U.S. officials had sought and received assurances from Iraq that the 36 detainees would be treated humanely and not sent back to Iran.
"We have made it very clear to the Iraqi government, that we are interested in the well being of these people, the preservation of their human rights; that they should not be forcibly repatriated to Iran," Hill said.
Residents of Camp Ashraf near the Iranian border say the Iraqi government killed at least seven people when security forces moved in on July 28, an incident that raises concerns about the dwindling U.S. influence in Iraq. Thirty-six camp residents were arrested by Iraqi police on charges of rioting.
Camp Ashraf is home to the People's Mujahideen Organization of Iran (PMOI) dissident group, considered a terrorist organization by the United States, Iraq and Iran. The U.S. military had awarded the 3,500 camp residents protected status after they agreed to surrender weapons in 2004.
(Additional reporting by Adam Entous)
By Susan Cornwell