Iranian Deputy Permanent Envoy to the United Nations Eshaq Ale-Habib strongly criticized the West for its double-standard policy on terrorism.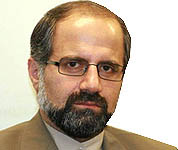 Al-e Habib made the remarks in the meeting Friday evening in the UN on combat against terrorism.
He called for worldwide fight against terrorists who are pausing serious threats to peace and stability.
The Iranian envoy said the recent EU decision on removing the anti-Iran terrorist group, the Mojahedin-e Khalq Organization (MKO), from its list of terrorist groups is an indication of the West's double-standard policy on the issue.
Acquiring weapons of mass destruction is an inhuman action, said Al-e Habib, adding that the Islamic Republic of Iran calls for annihilation of those weapons.
He further urged world nations to fulfill their international pledges on combating terrorism.