MKO forges Lebanese girl photo
The Mujahedin-e Khalq Organization (MKO), an anti-Iran terrorist group, forged a photo, relating it to Tehran's Ashura unrests.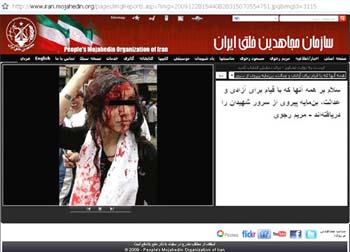 The MKO's official website put a photo of a Lebanese girl with her head bleeding, claiming she had been injured in the midst of Tehran's Ashura unrests on last Sunday, Habilian Association (families of terror victims) news website reported.
However, the popular photo belongs to a Lebanese girl showing her in an Ashura ritual in Nabatieh, south Lebanon. The photo, taken several years ago, has been on show on many Shiite as well as anti-Shiite websites. The MKO has cropped the photo so that the signs, written in Arabic, could not be viewed. The original photo can be viewed on the following websites:
http://bestfoto.mihanblog.com/post/3
http://www.alhsa.com/forum/showthread.php?t=115424
http://www.alnaja7.org/forum/showthread.php?t=1104
It is not the first time the MKO terrorist cult forges photos in order to deceive the public opinion. The cult used to forge popular photos of Iranian children, taken by great Iranian photographers and published in a book entitled "Children, Faith, Freedom" by the Islamic Republic Airlines, in order to justify their fundraising in Europe. The fundraisers claimed the children were orphans of Iranian dissidents executed by the Iranian government.
The MKO also published photos of the ex-President Mohammad Khatami's visit to Ebrat Museum in Arab websites, claiming he was witnessing Iraqi POWs tortured by Iranian agents. However, the museum shows statues of pro-Revolution people tortured by Shah's SAVAK.