News of the families – outside MKO's Camp Ashraf
Sunday 22 August 2010 – When the six months picketing families outside the gate of Ashraf garrison, the base of the MKO (Rajavi cult), who desire to see their loved ones seized inside the garrison learned about the interview of Ms. Batul Soltani about the immoral behavior of the leader of the MKO Massoud Rajavi inside the cult, they became ever so distressed and were totally ashamed of hearing them. Some were not willing to continue listening; some were in tears while some others were furious. One mother said: "Oh Lord! What is happening to my child inside this group?" while another mother asked: "Do our children know about these events?"
Today the families first decided to announce the matter on the loudspeakers in order to let the people trapped inside Ashraf cultic garrison know about it, but they were all ashamed to do so and no one was prepared doing it. Therefore they gave up. But later they thought that they have some commitments against their relatives.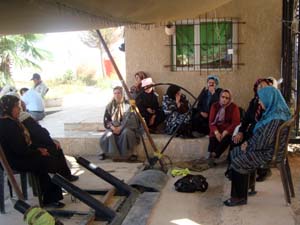 Would anyone help these suffering mothers?
Finally some families made their minds and decided to read the interview on the loudspeakers with the condition that the ladies go the sleeping container and would not stand opposite Ashraf gate.
Eventually the text of the interview was read. But after a short while, a group of cult manipulated victims stood in front of the families and started insulting, threatening and assaulting them. The families, who well know that the victims of the cult more than anything else need to be helped and saved, did not react likewise and ignored their insults.
We must accept that the former members as well as the families are in a very awkward situation. On the one hand they are ashamed to refer to the immoralities committed inside the cult by Massoud Rajavi and on the other hand they find themselves responsible against the society to give them the right information.
We remember that when Ms. Batul Sotani was in Iraq, she would only refer to these matters in private gatherings without going into details. She always used to say that when she goes to Europe and solves her legal affairs she would reveal many facts. She was determined not to go into the details of such things while interviewing in Baghdad with the Sahar Family Foundation. She used to say that the time is not ripe for it yet.
We also remember that following the revelations of Ms. Nasrin Ebrahimi for the first time in the European Parliament regarding abdominal hysterectomy (removing the uterus) inside the Rajavi cult, Ms. Soltani confirmed it and said that she had the intention of revealing the fact when she goes to Europe and Ms. Ebrahimi was supposed to do so when she gets there as she did. Both Soltani and Ebrahimi did not see any need to reveal the names of the victims, but they said that many women went into that process. They also announced that they are ready to go to Ashraf garrison along with a team of physicians from international organizations for the doctors to examine the women and ask them for what reason they had the operation done.