MKO preventing release of its crimes on media
Daniel Da Cruz serving as the Deputy Permanent Representative of Luxemburg to the United Nations Office at Geneva told Habilian that Mujahedin-e Khalq (MEK, also MKO, PMOI) infiltrated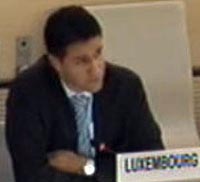 into the media committed to magnifying and engaging in (propagating) the goals of the group.
"It is astonishing to see some European parliamentarians support the Mujahedin-e Khalq, while it has assassinated twelve thousand Iranians," said Deputy Permanent Representative of Luxemburg to the United Nations Office at Geneva, Daniel Da Cruz.
"Plenty of European Parliamentarians are not aware of various dimensions of MKO crimes," Daniel Da Cruz told Habilian.
"Mujahedin-e Khalq has infiltrated into the media committed to magnifying and engaging in (propagating) the goals of the group."
"They are financially supported by MKO to prevent its crimes being published, therefore, many of the Parliamentarians are being deceived by the cult as a result of their lack of information on the nature of the group."
He emphasized the necessity of revealing the unknown aspects of the Mujahedin-e Khalq (MEK, also MKO, PMOI) more than before by publishing numerous documents and evidences, adding "I will disseminate the information through media for the public enlightenment of my country."