Mohammad Reza Rowhani and Karim Ghassim, two heads of the so-called Commissions of the National Council of Resistance of Iran (NCRI) published a joint resignation statement.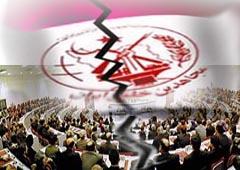 They say they do not want to go into detail; however they have listed a long list of human rights abuses and political mistakes – which are already well documented everywhere else.
Apparently they do not want to bring internal affairs into the open but felt compelled to mention a few things they simply couldn't bear any more.
Commentators responded by pointing out that these two individuals represented the last remaining 'non-MEK' members of the NCRI and that now there is no way for the MEK's Washington lobby office to pretend that it does not belong to the MEK.
Several articles welcomed the resignation of Rowhani and Ghassim from the NCRI but say they have not explained enough about what is going on inside the cult.
In particular Ghorban Ali Hossein Nejat (Rajavi's former translator, now in France) has said they need to become more involved in rescuing others who they now acknowledge are hostages in Iraq.