The Mojahedin Khalq released a statement last week exclusively in Farsi language.
The statement, purporting to be from the MEK spokesman in Oslo, Norway, consisted swearing at everybody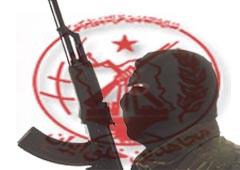 concerned with the situation in Iraq. The Americans, along with the United Nations and the government of Iraq, were attacked for "working for Iran". In particular American Jane Holl Lute who heads the UNAMI effort to expel the MEK from Iraq, was named in the statement as working for Iran. The US and UN were lashed for not providing sufficient security for the residents of Camp Liberty [who the MEK do not allow to leave the camp],
The group also demands the return of ten percent of the arms that were taken from the MEK in 2003 when the group surrendered to US troops during Operation Iraqi Freedom. In the same statement the MEK lashed the US, Iran and Iraq for fighting against ISIS, saying the group belongs to the country of Iraq.
The MEK statement from Oslo attracted many different reactions, to the extent that the MEK was forced to issue denials of their support for ISIS in various third class English language media. Many comments in Farsi simply criticised the MEK's support for ISIS.
Others took a more ironic line, saying that even were the arms returned to them, the residents of Camp Liberty are incapable of using them.
In more detailed comments people point to the number of former combatants at the time of Saddam Hussein which numbered around 4,000, and the list of arms which the US army took from them – the MEK claimed 20,000 items of heavy and light armoury were surrendered, of which 5,000 were heavy armaments. These figures simply point to the falsity of the MEK's position say commentators, whereby 4,000 combatants had 5,000 heavy weapons – certainly they were incapable even then of using them all. Other critics say that this demand is an attempt by Massoud Rajavi to muddy the waters in order to create conditions for the residents to be killed one way or another – an attack from ISIS or Iraqi forces for example. Families of Camp Liberty residents have expressed their deep concern at this turn of events and have written extensively to the UNHCR asking to be allowed to rescue their relatives and loved ones themselves.
Extracted from IranInterlink Weekly Digest