The long-time MEK supporter Ebrahim Mohammad Rahimi is dying of brain cancer in a London hospital. His son Sepher Mohammad Rahimi also in London wants to contact his mother, who is in Iraq. The MEK's response is swearing and defamation – saying Ebrahim has covertly worked for the Iranian regime for many years.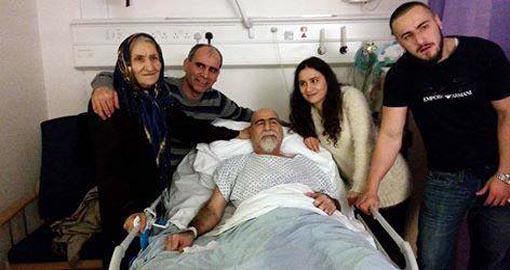 This week, Sepher wrote to the UNHCR and the ICRC refuting the MEK's statements.
He added, "during the ideological revolution inside the MEK, my mother divorced her husband. That has nothing to do with me. Why is she refusing to speak with me, her child? Neither I nor my father have ever said a single word against the MEK. Please arrange contact with her before he dies."
Ebrahim Mohammad Rahimi spent many years with the MEK. He eventually managed to escape the camp in Iraq by taking refuge in the American run TIPF for four years before getting back to London. During the internal revolution of the MEK, Rahimi sent his son, Sepher, live with his grandparents in Iran. Sepher has now returned to London where his father is terminally ill in hospital. Sepher's mother is still with the MEK and Rahimi and his son have tried to make contact with her before he dies. They have now begun asking MEK lobbyists for help since the MEK leaders only reacted by calling them "agents of the Iranian regime".