Asghar Farzin, Reza Sadeghi, and Ali Biglary, former members of the MKO, plead for justice against the organisation to the Iraqi judicial authorities and urge them to deal with the situation in Ashraf camp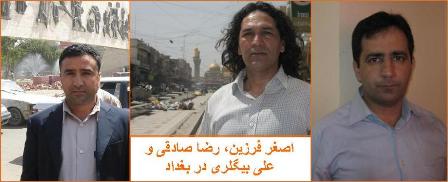 I Asghar Farzin was born on 1965 in Abadan, Iran. On 1987 I moved to Turkey to continue my studying in that country. I was acquainted with the Mojahedin-e Khalq Organisation (MKO) in the university. They spoke about freedom and justice and also Islam and recruited me into their organisation. The same year, that is December 1987, I was sent to Iraq for a short visit and I returned back to Turkey. The following year I was asked to go to Turkey for a short visit again and I accepted. But this time my passport was taken away from me and they did not let me go back to Turkey. I had to stay in Ashraf camp until the year 2003.
When the coalition and American forces occupied Iraq, I took refuge with the Americans and on February 2004 I moved to a camp called TIPF. On March 2005 I went to Iran to my family in Bushehr on my own request. Now I have come back to Iraq to file a lawsuit against the MKO in Iraqi judicial system.
Consequently 17 years of my life has been wasted and I was kept in Iraq against my will with no contact with my family and if the Americans had not occupied Iraq, God knows how long I had to stay in Ashraf camp. The leaders claim that the entry door of the organisation is closed but the exit is always open. They seduced me and it appeared that they take me to Iraq for a short period but then they said that the exit is only open to the Abu-Ghraib prison in Iraq. Many discontented members had been sent to Abu-Ghraib, therefore I chose to stay in the organisation.
During this period anytime I demanded to contact my family in Iran or I requested to leave the organisation they put me under severe psychological pressure to the point that I would withdraw my request.
The MKO has used seduction as well as compulsion to take away many years of my life when I was young and made me to do forced unpaid labour all through these years. Could a value be estimated for many years of my lost life and my poor heath state at the moment? I urge the Iraqi authorities to deal with the case of the inhabitants of Ashraf camp too who are subject to constant brainwashing and who have no contact with the outside world. I request that the leaders of the MKO face trial since they have abused the basic human rights of their own members.
————–
I Gholam-Reza Sadeqhi Jebeli was born on 1961 in Esfahan, Iran. On 1986 I left Iran to Pakistan and then to Canada and I stayed in Toronto. I married there and I have a son called Arian. After the first Gulf war I was recruited into the MKO and I used to participate in their meetings. On March 1994 I started to work with the organisation fulltime and I used to do street collection and recruiting other people. Then the organisation sent me to the USA and I was a fulltime member over there too. Then I was asked to go to Iraq for a short visit. I travelled to Iraq from New York on September 1997. But in Iraq they took my passport and did not let me go back to Canada again. So I had to stay there against my will until April 2006 when I left the organisation and moved to TIPF. There I realised that my son who had been taken to Iran by a friend when I was going to Iraq is still in Iran and his mother is badly missing me and her. She had gone through hard psychological experiences all through these years and she was hospitalised as the result of enormous mental pressure since she had no trace of either me or our son. The organisation never let me have any sort of contact with them.
Then I decided to go to Iran voluntarily since my son was there. I managed to send him back to Canada to his mother. Now although I can go to Canada myself but I decided to come to Iraq to file a lawsuit against the MKO for wasted many years of my life and my shattered family. The fact is that the organisation seduced me to go to Iraq and forced me to stay there and did not let me to have any contacts with my family in Canada or in Iran. I should also add that when I announced inside the organisation that I would definitely want to despatch from the MKO and the psychological pressure had no use, they assaulted me physically which left me a broken finger which is still noticeable.
—————–
I Ali Biglari was born on 1969 in Kermanshah, Iran. During the Iran-Iraq war I was arrested by the Iraqi forces. On October 1989 the MKO people including Mehdi Abrishamchi came to the camp of the prisoners of war in Iraq and recruited me telling many lies and giving false promises. On the year 2000 I announced that I wanted to dispatch the organisation and consequently they put me in solitary confinement. The condition to get out of the jail was to announce that I regretted my previous request to leave the organisation. Eventually they handed me over to the Iraqi security forces and they took me strait to Abu-Ghraib prison under the charge of illegally passing the boarder. In the prison I requested to meet with the ICRC but they paid no attention and there was no trial either. I was a POW and I was registered with the Red Cross and had an ID number, so illegally passing the boarder had no significance with my case, but they used to say openly that I had to either go back to the MKO or stay in prison without any trial. I was in prison up to the second Gulf war when I was handed over to the Iranian officials and I went back to my family on March 2003. Now I have been married for three years and I have a two years old daughter. I have returned to Iraq to claim for 18 years of my life which was wasted in Iraq and the physical and psychological damages that I suffered both inside the organisation and inside Abu-Ghraib prison. Mehdi Abrishamchi and others who came to the camp of PWOs in Iraq seduced me and showed me a false image of the MKO. They first told me that I can leave anytime I wanted to but I ended up in Abu-Ghraib prison. They imprisoned me and tortured me inside the organisation merely because I wanted to depart and they left the rest of the work for Saddam's security forces. The mental pressure on me was so high that I once committed suicide inside the organisation but fortunately I survived.
I have come to Iraq to urge the Iraqi judicial authorities to deal with many crimes of the MKO in Iraq against its own members and also deal with the situation of those mentally and physically captured in Ashraf camp and help them.
——————
Contact (Iraq):
saharfamily@yahoo.com
Tel: +964 – 7808481650 (Arabic and Farsi)
 Contact (outside Iraq):
Sahar
BM 2632
London
WC1N 3XX
U.K.
Tel: +44 – 2076935044 (English only)