Is it ever important for Over 3000 MKO members confined in Camp Ashraf whether the organization's terrorist tag is removed? As reported by MKO's official website, the Iraqi News Agency in an article entitled 'Ashraf people win again' stated "the skies of London, Paris and Ashraf embraced the new victorious and jubilant cheers for removing the terrorist tag from the PMOI. The new victory was not only the victory of Ashraf residents and the Resistance inside and outside Iran, but it was also the victory for all supporters of this steely resistance across the world".
No doubt, Camp Ashraf is more than a strategic base for the cult of Mojahedin,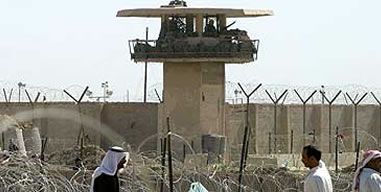 namely, the ideological fortress of the cult that must be maintained at all costs. There is no need to say that living conditions in this camp are below any reasonable standard and any humanitarian move is appreciated for a smooth outlet out of a hell of anguish and agony to a world wherein they could live as human beings.
The members' avalanche-like drift to TIPF indicates their desperate attempt to be relieved of the painful misery there. To stop them, the organization initiated a new move to resurrect its cult-like control over the dissatisfied members and put them under enormous physical and psychological pressure and brainwashing methods. A few have also committed suicide because they could not bear the imposed pressure and failed to join others in TIPF.
How do Mojahedin and their advocates define terrorism? Is the world fully informed of the condition of Ashraf's residents? In fact, the reported celebrations in Camp Ashraf in nature mean opposition demonstration. A question torments the camp residents that if the organization has really foresworn militarism making it liable to be removed from the terrorist list, then, for what reason they are still wearing the uniforms of the so-called Liberation Army and are held as captives? Many wonder that how can the captives in Ashraf, many of them women, ever chant jubilant cheers for removing the terrorist tag from the group while they are the ostensible victims of terrorism themselves! Mojahedin.ws, May 14, 2008
http://www.mojahedin.ws/news/text_news_en.php?id=1671