On April 15th,2008, a report was published on Boston.com, according to which " Texas officials took 416 children from a polygamist retreat into state custody …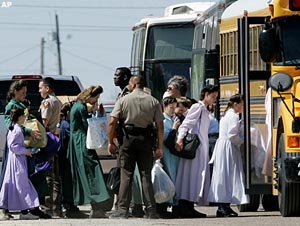 " These children were taken from the cult due to the risk of abuse. Marissa Conzales spokeswoman for the State children 's Protective Services agency said: " it is not the normal practice to allow parents to accompany the child when an abuse allegation is made." According to Jenniffer Donaber and Michael Graczyk, the Associated Press correspondents, the state is accusing the sect of physically and sexually abusing the youngsters and wants to strip their parents of custody.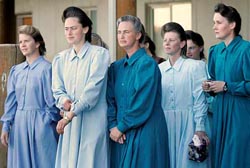 The parents in the sect are accused of being manipulated as it is normal in all sects such as MKO where after the Ideological Revolution the spouses were indoctrinated manipulated and eventually forced to divorce and in 1990 during the first Gulf War, they were forced to leave their children under the care of the organization. But there is no protective service agency to care for MEK members' children who were transferred to Europe where they live in group houses in a very poor condition, and every morning they should hail to Uncle Masud and Aunt Maryam ( since they do not have any idea of Mother, Father and Family) As Elizabeth Rubin quoted from Nadereh Afshari MKO's former member in her article '' the Cult of Rajavi'': "Every morning and night, the kids, beginning as young as 1 and 2, had to stand before a poster of Massoud and Maryam, salute them and shout praises to them… They saw these kids as the next generation's soldiers. They wanted to brainwash them and control them." Where are the judges, juries, attorneys and lawyers to defend the case of MKO members' children whose parents have no idea of where they live. The children are forced to participate in fund raising propaganda of the organization soliciting European citizens with their poor appearance. Is it a normal practice to see children living a difficult life in the modern European cities. The democratic cover of MKO activities have hidden their anti – human behavior towards their members especially children who are considered as the future militia by MKO. So what is called children's rights abuse? Isn't it the abuse of a child's life to prevent him from living a normal life within his family, enjoying education in a free school of a free country? Batul Soltani is a mother whose children were taken of her in the organization. Now that she has left MKO, she is looking for her beloved children whose photos were hidden in her clothes during the dark years of living behind the bars of Rajavi's cult. She will hopefully find her children someday but who can return those grieving years of missing her children? The years when she was not even allowed to think about them.