Margaret Thaler Singer in her book entitled "Cults among Us" states the following regarding the position of cults on the family issues:
"The cults, using extremist ideas based on their ideology to upraise their members against their families. This is both to separate members from their families and to train them on how to obey the irrational orders of the cult."
The MKO's leadership consists of the husband and wife team of Masoud and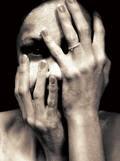 Maryam Rajavi. Their marriage in 1985 was hailed by the leadership of the organisation as the beginning of an "ideological revolution." Before this marriage, Maryam was the wife of Mahdi Abrishamchi, deputy to Masoud Rajavi. Various phases of this "revolution" included: divorce by decree of married couples, regular writings of self-criticism reports, renunciation of sexuality, and absolute mental and physical dedication to the leadership.
In 2005, the international NGO Human Rights Watch released a report on the issue of human rights violations in MKO camps, where on the issue of ideological revolution, it stated:
"The leadership of MKO asked all its members to undertake their own "ideological revolution" by identifying their personal shortcomings in self-criticism sessions."
Quoting from Mojahed:
"In order to carry out your organisational duties under the present circumstances there is an urgent need to strengthen and deepen this ideological revolution. You must pay the necessary price by allocating sufficient time and resources for absorbing related teachings…Be certain that your deep belief in the novel leadership of the new democratic revolution of the heroic Iranian people, meaning Masoud and Maryam Rajavi, ….you will be able to correct your work habits and be able to deal with and resolve personal, organisational, and military difficulties."
The Social Division of MKO also issued a directive to the members initiating the self-criticism tradition within the organisation:
"To understand this great revolution…is to understand and gain a deep insight into the greatness of our new leadership, meaning the leadership of Masoud and Maryam. It is to believe in them as well as to show ideological and revolutionary obedience to them…"
Ideological revolution which was proclaimed by the leadership of the sect, Masoud and Maryam, did not end here. After the defeat of this group in its terrorist operations, including the operation dubbed as "Eternal Light" , the leadership in order to cover up its own weaknesses and failed strategy, declared that the reason for the weaknesses of MKO forces was the lack of devotion and in order to remove this deficiency, it declared a series of ideological revolutions and required from the members to cut themselves from all the physical and psychological attachments in order to increase their capabilities to combat the enemy. Masoud Banisadr reports how this process unfolded during an "ideological meeting for executive and high ranking members" following MKO's defeat in Iran:
"The first thing I was required to do in Baghdad was to watch a videotape of an ideological meeting for executive and high-ranking members…there was a buffer between ourselves and him [Rajavi] … which prevented us from seeing him clearly. This "buffer" was our weakness. If we could recognize that, we would see why and how we had failed in Operation Forogh [Eternal Light] and elsewhere. Masoud and Maryam had no doubt that the buffer was in all our cases our existing spouse."
"The organisation's order for "mass divorce" caused much mental anguish and confusion. Even poor single people were required to divorce their buffers, having no idea whom that meant; apparently the answer was to divorce all women or men for whom they harboured any feelings of love. Only later did I realize the organisation demanded not only a legal divorce but also an emotional or "ideological" divorce. I would have to divorce Anna [My wife] in my heart. Indeed I would have to learn to hate her as the buffer standing between our leader and myself. Rajavi announced at the meeting that as our "ideological leader" he had ordered mass divorce from our spouses. He asked everyone to hand over our rings if we had not already done so. That meeting was the strangest and most repugnant I had ever attended."
In the definition that is provided in the book "Cults among Us" it states:
"The cults, using extremist ideas based on their ideology up rise their members against their fam-ilies. This is both to separate members from their families and to train them how to obey the irra-tional orders of the leader of the cult. The sects that are active under the cover of religion, teach their members to consider those outside their sect, even their relatives as Satan and therefore they should avoid them to the extent possible"
In this connection we draw your attention to the response provided by a former member of the group named Hura Shalchi who was herself at a time at the service of this group and who sent the response in answer to her sisters who are still captives at the hands of this terrorist group:
"…Before anything else I should say how happy I am to see the picture of you three dear and lovely sisters after 5 years. While I was in MKO, under whatever pretexts, they did not allow us to meet each in private. We were able only to see each under with the presence of the com-manders and not exceeding more than one hour. I am also very much happy that this interview was a reason for you three dear sisters to sit together despite the opposition of MKO. I know very well that you can see each other to share your sisterly sentiments very rarely. Because, principally speaking, Rajavi is a great impediment to any manifestation of sentiments. I will never forget that he opened my letter addressed to my daughter at the age of less than 6 years and never allowed that to be posted to Iran. I know very well that whatever you say or have been told before all have been under pressure. For this reason I have not been and would not be upset from you at all. It is a trick played by MKO all the time to put the family members at odd towards one another. They want to turn the criticism towards them to family disputes so that they are not obliged to be answerable to real criticisms."
According to BBC's Newsnight programme, Abbas Sadeegi Najad a former MKO member talks about how he was manipulated by MKO about his family. He mentions that MKO lied about his family in order to cut his ties with his family, they said that his wife and newborn daughter died. Meantime his wife was also informed that he was killed by the Iranian government when he was escaping the country. In addition he gives account of detailed torture session that was performed against him by MKO members in the camps located in Iraq.