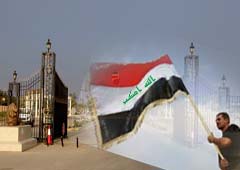 Iraq will move exiled Iranian dissidents based at a camp close to the border between the two countries to Baghdad, a government spokesman said on Thursday.
"We will move residents of Camp Ashraf to buildings in Baghdad on Tuesday," he said, without giving details.
The members of the People's Mujahedeen have lived at Camp Ashraf, a refugee base in Diyala province north of the Iraqi capital, for more than 20 years.
Iraqi security forces launched an operation to take over the camp in July.
The group was founded in 1965 in opposition to the shah of Iran and subsequently fought the clerical regime that ousted him in the 1979 Islamic revolution.
About 3,500 Mujahedeen and their families have lived in Ashraf since former Iraqi dictator Saddam Hussein allowed the Iranian opposition to set up bases on his territory during his 1980-88 war with Tehran.
Following the 2003 US-led invasion of Iraq, American forces disarmed the Mujahedeen in Ashraf and placed the residents under protection.
Iraq's increasingly independent government has moved to take charge of the site.