The Government of Iraq has decided to move the residents of Camp Ashraf, all of which residents are members of the People's Mojahedin Organization of Iran, to another location which has not yet been disclosed.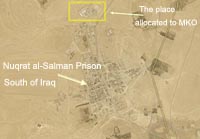 The Government has invited the media to attend Camp Ashraf on the fifteenth day of December to cover the transfer of residents to the place allocated to them.
The issue of the MKO has been subject to protracted negotiations between the Government of Iraq and the U.S. over the fate of this organization which is classified as a terrorist group by both sides. The former Saddam Hussein's regime gave it full protection and provided a camp, said to be the base for its [terrorist] activities. The organization's members participated in military operations in favour of Saddam's regime until its demise in 2003.
Wasat online, Baghdad, translated by Iran Interlink
http://www.wasatonline.com