In a meeting held in Koln, Germany in March 2011, Ms. Batoul Soltani ,former member of MKO's leadership Council congratulated three recently separated members of Mujahedin Khalq living in Germany, Mr. Mehrdad Sagharchi, Mr. Rouhollah Tajbakhsh, Mr. Mehdi Sojoudi for their new life in free world. She also congratulated the international Woman's Day, hoping the release of women captured in the cult of Rajavi.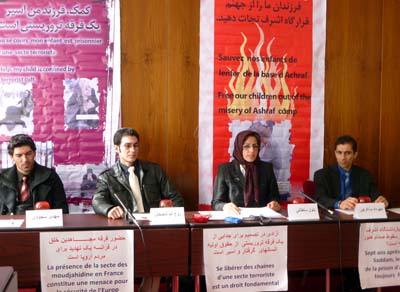 The three ex-members told the audience some of their bitter experiences in MKO. They mentioned the group's tricks and deceitful approaches to recruit members.
They spoke of the suffocating, closed atmosphere of inside the cult where members are not allowed to marry, to contact their family, to watch TV or to read newspapers. They just have to work so hard that they could not find any opportunity to think.
Although the atmosphere of Camp Ashraf is terribly oppressive, escaping the cult is not impossible, according to former members; people should only decide to save themselves from the bars of Ashraf. They also suggested their preparedness to help their ex-friends in Camp Ashraf.
At the end, Ms. Soltani promised salvation of captives of Ashraf in near future, promoted by families picketing at Ashraf gates.
Translated by Nejat Society