On Saturday March 5th, former members of the Mujahedin Khalq Organization (the MKO), active in different human rights associations including Aawa, Pen Club, Iran-Fanous and Women Association, held a conference in Koln, Germany.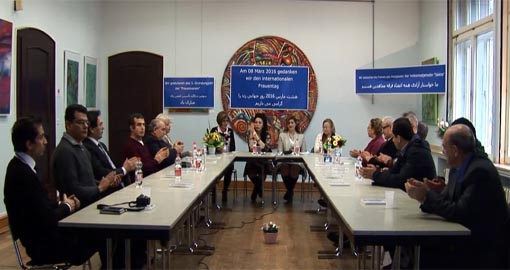 The meeting was held on the occasion of the International women's Day to cherish hundreds of women who are still taken as hostages behind the MKO's cult-like bars.
During the meeting, members of women Association, Batoul Soltani, Homeira Mohammad Nezhad and Zahra Moeini celebrated the third anniversary of the association. Batoul Soltani addressed the meeting warning the world about the danger by the side of the Cult of Rajavi. "As an eyewitness, I know the reality of the inside of this cult", Batoul Soltani said. "I spend 20 years of my life in the Cult of Rajavi and now I'm happy because I won't keep silent quiet until the cult is running."
Ms. Soltani criticized Maryam Rajavi for her pro-democracy gestures and her slogans for freedom of women last week on the occasion of March 8th. "Humiliation of women" is the true function of the MKO Cult for women, according to the speakers of the meeting.
She warned Europeans about the "virus of the sect of Rajavi" which may affect their society.
"Although I know that the Iranian youth never tend to embrace the MKO, I'm concerned about the violent nature of the group", Soltani added.
Then Ms. Homeyra Mohammadnezhad, addressed the audience in German confirming Ms. Soltani's arguments.
The meeting was also attended by several former members and critics of the MKO destructive cult such as Ghorban Ali Hosseinnejad, Ali Akbar Rastgou and Mohammad Karami.