Ms. Meschian's brother was held hostage by the Mujahedin-e Khalq Cult when he was killed during the rocket attack to Camp Liberty, Iraq.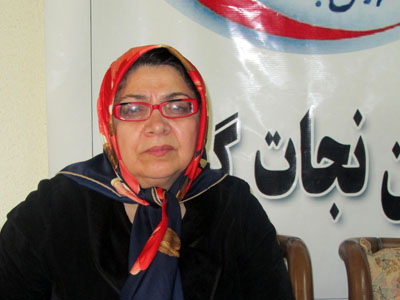 Ms. Meschian recounts her brother's story:" my brother; Ahmad travelled to Europe to continue his studies in 1984. There he was trapped by the MKO recruiters. They deceived him and sent him to Iraq. From then on we had no contact with Ahmad.."
Ms. Masoumeh Meschian is an active member of Nejat Society, Gilan branch. She several times traveled to Iraq alongside other family members of MKO hostages. However the MKO leaders refused to let them visit their loved ones.
The MKO Cult leaders also consistently refused to allow members to leave Iraq and take refuge in third countries. United Nations, the International Committee of the Red Cross, Iraq's ministry of human rights and the Iranian embassy in Iraq to find a safe and peaceful way to remove all the MKO from Iraq. With the principle of non-refoulement accepted by all other parties as the basis of this programme, only the MKO leaders refused to cooperate. Until recently that the MKO leaders ought to accept the transfer of the group's members to Albania though in small groups.
" Rajavi victimized my brother and several other members …", Ms. Meschian reiterated.
"…My late parents were always looking forward to see my brother once more. We also do suffer a lot . .. any way I am sure that one day the traitor Rajavi will be held accountable for the blood of those he victimized. …
Ms. Meschian visited Nejat Society after the recent tip of families to Camp Liberty, Iraq.