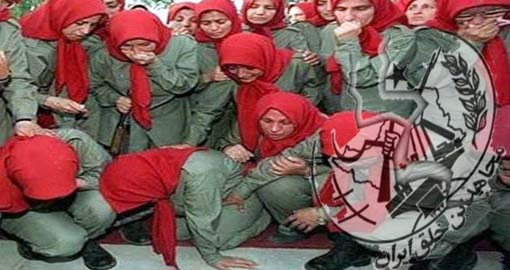 November 25 marks the International Day for the Elimination of Violence against Women designated by the United Nations General Assembly. The premise of the day is to raise awareness of the fact that women around the world are subject to rape, domestic violence and other forms of violence; furthermore, one of the aims of the day is to highlight that the scale and true nature of the issue is often hidden.
Yes! It is often hidden and sometimes covered under the most glamorous slogans of feminism and democracy. The Mujahedin Khalq Organization (the MKO/ the Cult of Rajavi) may be the most significant example of hidden violence against women.
Hundreds of women taken as hostages by leaders of the cult of Rajavi are subject to a range of different forms of violence such as forced hijab, forced labor, forced celibacy and forced marriage. The latest can be considered as rape because those women who were subject to rape have been actually brainwashed to marry the polygamous cult leader, Massoud Rajavi.
Besides, women in the Cult of Rajavi are deprived from having children. A large number of the group female members were subject to forced hysterectomy surgery.
The propaganda of the MKO cult claims to be the voice of Iranian women; it works so professional to hide the true condition of the women inside its camps. Definitely, the group leaders are "skilled manipulators of public opinion" — as said in the RAND report.
The evidences on cases of violation against women are countless. Some of them have been translated to English and some are originally in English reported by western journalists and human rights bodies.
The following links may raise awareness on the disastrous situation of female hostages of the Rajavis:
Modern Slavery in the Cult under Rajavi's Program for Women
Solidarity with women residing in the MKO camps
True Facts on Women's Rights within the MKO Cult
Collapse of Morality in the MKO
PMOI Leadership Council's women SALVATION DANCE