Mujahedin supporters mount U.S. lobbying effort
Iranian American groups have launched an expensive campaign to have the People's Mujahedin Organization removed from the State Department's list of terrorist organizations.

Two groups have hired Washington lobbyists to push a House bill calling for the change.
The Iranian American Community of Northern California has paid Akin Gump $100,000 in the past two months. Former congressmen Vic Fazio and Bill Paxon are among the Akin Gump advisers working on the campaign.
Another group, Iranian-American Community of North Texas, hired diGenova & Toensing in February. The lobby shop has been paid $100,000 this year.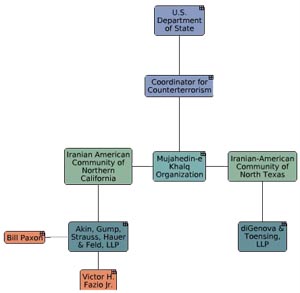 The State Department describes Mujahedin, also known as Mujahedin-e-Khalq (MEK), as "the largest and most active armed Iranian dissident group," with a history of anti-western activity.
The House bill, sponsored by Republican Ted Poe of Texas, argues that members of the organization have ceased all military operations and reject terrorism.
The Financial Times reports that groups supporting the legislation have paid millions of dollars to former government officials to speak at their events.
Among those speaking on behalf of the groups, according to the FT, are Howard Dean, Rudy Giuliani, former U.N. ambassador John Bolton; former national security adviser Jim Jones; retired Army Gen. Wesley Clark, former homeland security secretary Tom Ridge; former congressman Lee Hamilton; and former Attorney Gen. Michael Mukasey.
By Laurie Bennett – Muckety.com