So say the Mujahedeen e-Khalq terrorists in the comment section below my recent interview of Huffington Post writer Shawn Amoei. They're angry with him for having the temerity to say that they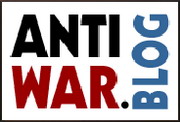 are the enemies of Iranian reformers and friends of the Israelis and Americans who want war with Iran. And that they are terrorists.
At least they only threatened to sue me. Not that I would mind making the case in court for what commie-murderer-cultist former puppets of the Ayatollah Khomeini, Saddam Hussein, Donald Rumsfeld, disgraced neocons and the Israeli Mossad they are — or what a pathetic pile of lies their K-Street front, the NCRI, is constantly pushing about Iran's nuclear program — not at all.
But fair warning. I'll counter-sue for court costs. And will win. And will have fun humiliating you.
Herr Hillary, of course, is planning to de-list the MEK from the State Department's list of officially designated terrorist organizations.
Speaking of which, here's a nice little summary of the MEK's crimes by the U.S. State Department:
"The group's worldwide campaign against the Iranian government uses propaganda and terrorism to achieve its objectives and has been supported by reprehensible regimes, including that of Saddam Hussein. During the 1970s, the MEK assassinated several U.S. military personnel and U.S. civilians working on defense projects in Tehran and supported the violent takeover in 1979 of the U.S. Embassy in Tehran. Despite U.S. efforts, MEK members have never been brought to justice for the group's role in these illegal acts.
"In 1981, MEK leadership attempted to overthrow the newly installed Islamic regime; Iranian security forces subsequently initiated a crackdown on the group. The MEK instigated a bombing campaign, including an attack against the head office of the Islamic Republic Party and the Prime Minister's office, which killed some 70 high-ranking Iranian officials, including Chief Justice Ayatollah Mohammad Beheshti, President Mohammad-Ali Rajaei, and Prime Minister Mohammad-Javad Bahonar. These attacks resulted in a popular uprising against the MEK and an expanded Iranian government crackdown which forced MEK leaders to flee to France. For five years, the MEK continued to wage its terrorist campaign from its Paris headquarters. Expelled by France in 1986, MEK leaders turned to Saddam Hussein's regime for basing, financial support, and training. Near the end of the 1980-1988 Iran-Iraq War, Baghdad armed the MEK with heavy military equipment and deployed thousands of MEK fighters in suicidal, mass wave attacks against Iranian forces.
"The MEK's relationship with the former Iraqi regime continued through the 1990s. In 1991, the group reportedly assisted in the Iraqi Republican Guard's bloody crackdown on Iraqi Shia and Kurds who rose up against Saddam Hussein's regime; press reports cite MEK leader Maryam Rajavi encouraging MEK members to 'take the Kurds under your tanks.'"
And I don't know what they're saying here, but the MEK's former cult leader (it's now run by his widow, the cult leader runner-up) looks like he had a much warmer thing going with Saddam Hussein, that great ally of the Iranian people, than even Rumsfeld had back in their mutual good old days: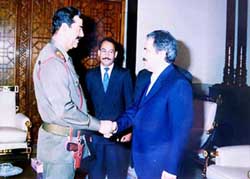 Scott Horton