Iraqi government spokesman Ali al-Dabbagh says that Baghdad has not extended the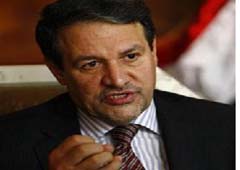 end-of-year deadline to expel the terrorist Mojahedin Khalq Organization (MKO) from Iraq, the Fars News Agency reported on Wednesday.
The deadline has not been extended but the way to expel the MKO members from Iraq has changed, Dabbaq stated.
Up to now, no country has agreed to give refuge to the members of the group, he said, adding that ,however, it takes a long time to move four thousand people and their belongings.
According to an agreement between the UN and Iraq, the MKO members' expulsion from Iraqi soil will take place in two phases, Dabbaq said.
First, the residents would be relocated to Camp Liberty, a former U.S. military base near the Baghdad International Airport, and then they will leave the country, Dabbaq explained.
He went on to say that as the Iraqi government has earlier announced, the MKO members will leave Camp New Iraq, which was formerly known as Camp Ashraf, by the end of 2011.
The MKO started its activities as a terrorist group based in Iraq in the early 1980s. In addition to the assassination of hundreds of Iranian officials and citizens, the group cooperated with Saddam Hussein's Baathist regime in its repression of the Iraqi people.
The MKO had fought as a mechanized division in alliance with Saddam Hussein during the 1980-1988 Iran-Iraq war. But it was disarmed and left stranded after the U.S. invasion of Iraq in 2003 that toppled the dictator.
The U.S. government characterized the MKO as a cult and designated it a terrorist group in 1997, holding it responsible for the assassinations of three U.S. Army officers and three civilian contractors before the Islamic Revolution (in 1979). With funding from the Iranian diaspora, the MKO has mounted a major campaign in the U.S. and Europe and enlisted many top national security figures from mostly Republican administrations as well as a number of prominent Democratic politicians to get its terrorist designation lifted.