The Chicago Tribune is reviewing an unauthorized paid speaking engagement by its Pulitzer Prize-winning columnist Clarence Page at an event supporting an Iranian group designated as a terrorist organization.
Page, a member of the Tribune editorial board, received $20,000 and was given travel expenses for the June 23 event in Paris, which was sponsored by a group called the Organizing Committee for Convention for Democracy in Iran. It turned out to be a large rally in support of the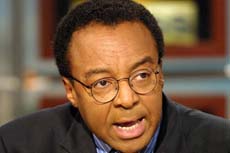 Tribune columnist Clarence Page under review for unauthorized paid speech
Mujahedeen-e-Khalq, a controversial organization that has been engaged in a high-profile campaign to be removed from the U.S. government's list of terrorist groups.
Page, who joined paid speakers such as former New York Mayor Rudy Giuliani and former New Mexico Gov. Bill Richardson, said he had misgivings soon after arriving at the event, when he realized the scope was more than just a discussion about human rights and fairness toward Iranian exiles, as he previously thought. He went through with his three-minute speech anyway.
"I figured it must be a reputable gathering," Page said. "It wasn't until I got over there that I began to question whether this was more of a partisan affair than I had thought before."
The story was first reported by nonprofit ProPublica on Monday. Page told the reporter he was planning to give the money back because of his misgivings about the nature of the event. The Washington-based Page then called the Tribune's editorial page editor, Bruce Dold, to fill him in.
Beyond the ramifications of a controversial political association, accepting the engagement was a breach of the Tribune's code of editorial principles. Although some paid speaking engagements are allowed, all editorial employees need approval before accepting them, Dold said. Page said he took the engagement on his own.
"It was a violation of policy," Dold said. "A speaking fee must be approved in advance by a manager, and he did not seek approval on this, and you can't accept a speaking fee from any organization with a special interest group or a publicity interest. If approval had been sought, it would have been denied."
"Page will return the honorarium and expense money," Gerould Kern, senior vice president and editor of the Tribune, said in a statement. "We are reviewing all of the circumstances and considering further action."
In the eyes of the State Department, the MEK is a foreign terrorist organization. In the 1970s, the group killed several U.S. military personnel and civilians in Iran and, until Iraq's former regime crumbled in 2003, it was an integral part of Saddam Hussein's repressive security apparatus.
In recent years, the group has been waging a public relations battle, trying to convince the American military that it supports Washington's larger interests in the region — namely, the demise of the Islamist regime in Iran.
The group was placed on the list in 1997 by the administration of President Bill Clinton, according to the ProPublica report. A federal appeals court last month ordered the State Department to decide within four months whether the MEK should remain on the list.
Page said he has accepted about seven compensated speaking engagements in the past 18 months. The most he has ever received as a speaker's fee was about $7,000. Most are also far less controversial — journalism panels, colleges and an upcoming American Bar Association event in Washington. But Page said he hasn't sought approval for any paid speaking engagement in the past three years.
"For years I got approval upfront. I just let things lapse and I am sorry about it," Page said. "If I had been more diligent, this kind of situation would not have happened."
By Robert Channick, Chicago Tribune reporter