The Mujahadin-e Khalq – an Iranian exile group opposed to the current regime there and backed by Democratic congressman and San Diego mayoral candidate Bob Filner – has returned to the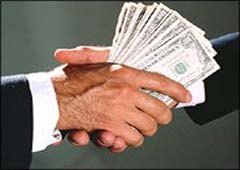 news, this time with a report that ex-Washington Post reporter Carl Bernstein was paid $12,000 to give a speech at an event held on behalf of the MEK's ongoing battle to be taken off the U.S. State Department's list of terrorist organizations.
As previously reported here, Filner, long an outspoken advocate for the MEK, has taken two first class, all-expense-paid trips to MEK-related events in Paris, both paid for a shadowy group calling itself "Colorado's Iranian American Community."
We have repeatedly made requests to Filner's office and campaign to provide more details about his Mujahadin-e Khalq-related travel, but neither he nor his aides have responded to our questions.
The online journalism site ProPublica.org reports today that Bernstein's February address before 1500 people at New York's Waldorf Astoria made him "one of the few journalists who has appeared at events in a years-long campaign by MEK supporters to free the group from the official terrorist label and the legal sanctions that come with it.
"He told ProPublica that he was paid $12,000 for the appearance but that, 'I was not there as an advocate.'"
ProPublica goes on to note that the Mujahadin-e Khalq, "sometimes described as cult-like by critics, is blamed by the State Department for killing Americans in several attacks in Iran in the 1970s and in attacking Iranian targets through the early 2000s.
"The MEK now says it has renounced violence and has sued to be removed from the terrorist list. (Bernstein's speech also referred to the "murderous bureaucracy" that runs Iran, "against whom the MEK has courageously fought.")
"The public push in the U.S. is notable both because it has brought together a large bipartisan group of former top military officials and veteran politicians from both parties and also because of the large sums of money paid for those appearances."
In today's ProPublica account, Bernstein is quoted as saying that "the pro-MEK events are 'obviously … part of a lobbying campaign' but [that] his speech was 'largely about using the designation of terrorist and subversive organizations as a smokescreen for other things.'
"He said that stories focusing on speakers at pro-MEK events rather than on 'the substance of what the controversy is' amounted to 'journalistic McCarthyism.'"
By Matt Potter, Sandiego Reader