Ali al-Husayni al-Sistani, the highest-ranking Shia marja in Iraq and the leader of the Hawza of Najaf warned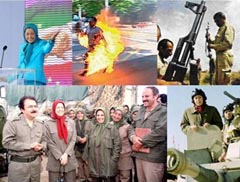 against the activities of the MEK, stressing its militants were no less than terrorists sold to the arrogance of the West.
Founded on September 5, 1965 by a group of leftist Muslim Iranian university students as an Islamic and Marxist political mass movement, the MEK was originally devoted to armed struggle against the Shah of Iran, capitalism, and Western imperialism. However, its militants soon turned against Ayatollah Ruhollah Khomeini.
Iraq and Iran designate the MEK as a terrorist organization.
Islam Times