On Monday September 28, 2015, Mr. Ghorbanali Hosseinnezhad the father of Zeinab Hossein Nejad and Mostafa Mohammadi the father of Somayeh Mohammadi and her sister Hurieh, went to the town hall of Auver Sur Oise to submit a letter of appreciation to the mayor Isabelle Meziere who welcomed the two families of the girls who are taken as hostages by the Mujahedin Khalq Organization (the MKO). The MKO's headquarter is located in Auver Sur Oise in the suburb of Paris and the leader of the group Maryam Rajavi resides there.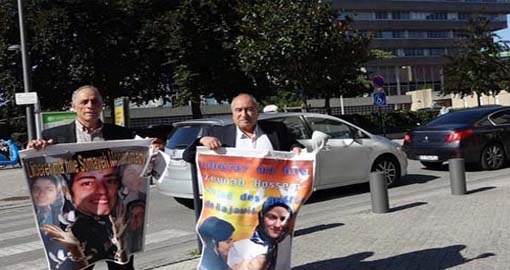 The two fathers were then escorted by the police to Municipality of Auver Sur Oise and the office of the governor general of Val d'Oise province.
The two fathers also took their cause to the office of the local newspaper La Gazzette carrying placards and flyers and photos of their daughters.
Under the official permission of the local authorities, they presented a statement in French, spreading among people in the neighborhood where Local authorities and citizens offered sympathy to the two suffering father. They expressed their sorrow urging the necessity of pushing Maryam Rajavi to allow families of the group's hostages to visit their loved ones and to lift ban on the members of the cult-like group to have free access to the free world.