Maryam sanjabi;MKO separated member interviewed Ms. Narges Beheshti
Ms. Narges Behesthi is a suffering sister who lost her brothers within the Mujahedin-e Khalq Cult.
It is now a decade that Ms. Beheshti is seeking to visit or at least have a contact with her two brothers; Mostafa and Morteza.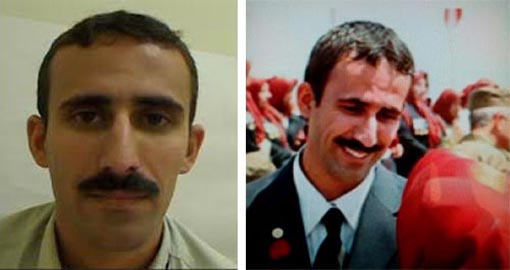 Unfortunately her older brother Morteza was killed during the Iraqi police invasion to Camp Ashraf. Actually Morteza was victimized for the cult leader's interests and his passion for power.
Even after such a disastrous and painful event, the Rajavis denied the Beheshti family's visit their younger brother; Mostafa.
Ms. Beheshti went to the Camp Ashraf dozens of times and requested for a visit, still she couldn't.
In an interview with Ms. Maryam Sanjabi – MKO separated member, she describes how her brothers joined the Cult:
My brothers were not supporters of Mujahedin-e Khalq. We didn't know these unpatriotic and traitors.
In 2011 my older brother; Morteza went to Turkey to find a better job. For two months he took a temporary job. After two months that we had no contact with him, Moteza sent us a letter saying that he worked in a shipping company and that they would help him to go to Europe. He wanted us to send our younger brother Mostafa to Turkey. This way Mostafa who was seeking a good job went to Turkey as well.
We later understood that the MKO recruiters in Turkey had promised my brother to send him to Europe provided that he stay at Camp Ashraf, Iraq for six months.
We had no contact with my brothers for a year when we received a letter from Mostafa. In the letter he had asked us to send our sister to Turkey as well. Though we were somehow doubtful, we agreed that my sister go to Turkey. My sister went to Turkey in accompany with one of our relatives. We were worried so we wanted our relative to make sure that my sister would reach our brothers. In Turkey someone else had gone to welcome my sister. The two men said that we would drive you to your brothers. Our relative refused my sister to go with them. And after some disputes with the two men he took my sister back to Iran.
Two weeks later Mostafa called us. While crying he said ".. why didn't my sister come here.. they will kill me…," he was crying when the connection suddenly cut out.
Tanks God. We were lucky that the Rajavi army didn't succeed to take another member of our family as hostage.
After the last call we could not find my brothers. We had no news of them.
After the fall of Saddam Hussein, through NejatNGO we understood that my brothers had not gone to Europe. They had no job rather they were transferred to camp Ashraf,Iraq. In fact they were deceived by the MKO Cult recruiters in turkey. The Rajavis henchmen had assured my brothers that they will help them with sending them to Europe and providing them with residency in case that they stay at Camp Ashraf, Iraq for six months. Then they wanted Mostafa to write a letter to get my sister to Iraq as well.
In 2004 my mother could visit my brothers for the first time after three years. In that year for the first time the Cult leaders allowed the families to visit their children at Camp Ashraf. My mother could have a short visit with my brothers. The conversations were strictly controlled by the Cult in a way that my brothers couldn't speak freely to their mother. My younger brother had taken my mother's hands from under the table while crying. They didn't dear to express their emotions….
From then on we have had no contact with my beloved brothers.
Unfortunately Morteza was killed in 2011 during the clash between Iraqi police and Camp Ashraf residents.
We went to Camp Ashraf several times but the Cult leaders didn't allow us to visit Mostafa…. The separated members of MKO told us that the members are kept under pressure within the Cult and some even do not know that their families come to visit them….
Neday-e Haqiqat website published the interview in Persian.