On February 25th, another group of Mujahedin-e Khalq hostages' families arrived at Camp Liberty gate. The families' only demand was to visit with their family members enslaved at Camp Liberty, Iraq by the Cult leaders. They have had no contact with their loved ones for many years. They are worried about the destiny of their family members at MKO Cult camp.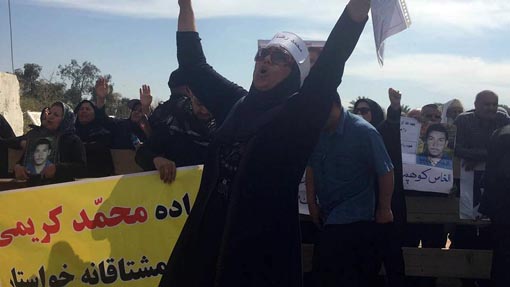 The families picketed in front of the Camp Liberty for several days. While crying, the suffering families called their loved ones vociferously.
The families actively tried to convince the brainwashed members to liberate themselves front the Cult's physical and mental barriers.
Ms. Iranpour whose brothers are held hostages by MKO leaders at Camp Liberty and has several times travelled to Iraq, evaluated the families' trip to Iraq as favorable. Referring to the families' revelations to the UNHCR representatives and journalists, Ms. Iranpour reiterated: "the recent trip [to Iraq] has had many achievements. She said despite the MKO Cult leaders' efforts to confront the effects of family members affections on residents, still some of the residents replied to the families' passions by waving hands and sending kisses.
The journalists also attended the families' picketing in front of the Camp. Mohammad Al- Yaseri wrote a report on South of Lebanon Newspaper titled:" Liberty base… US collusion and silence of the government". In his report Al-Yaseri wrote: "…this two-thousand people are held captive by this organization under the supervision of the US and support of the Europe and the shameful silence of the Iraqi government. Today 170 family members arrived at the[Liberty] Camp's gate in accompany with some TV Channels such as Al-Alam and Al- Etejah Satellite Channel. However the organization didn't allow them to visit their families in the fear of their defection and return to their homeland…."
The families also wrote a letter to the United Nations High Commissioner for Refugees in Iraq demanding to help them visit their loved ones.