NTCM Fighting for the Children's Right Abused by MEK Cult led by Maryam Rajavi In S & D Conference in EU Parliament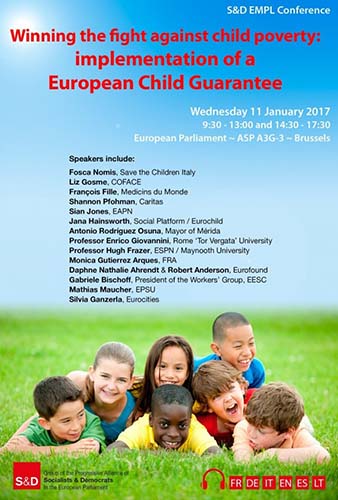 Group of the Progressive Alliance of Socialists & Democrats in the European Parliament had organized, "Winning the fight against child poverty: implementation of a European Child Guarantee" a daylong Conference in European Parliament, Brussels Wednesday Jan 11, 2017.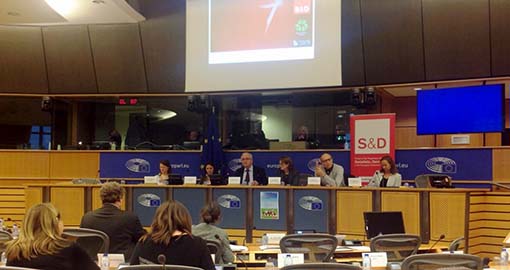 NTCM's chairman Davood Arshad accompanied by Mr. Reza Jebelli had an active participation in the conference.
On behalf of the NTCM (No to Terrorism and Cults Movement) Mr. Arshad commented as follows:
I would like to express my appreciation to S & D for organizing such a vitally important conference fundamental to human wellbeing and progress. Today we have heard reports with facts and the figures on Child poverty in EU Countries. We have heard that it has been seven years since this issue has made no progress what so ever, no more budgets has be allocated to fight the Child Poverty, that leads to children losing their parents, their rights and their future. But the harm does not stop at this point.
Ladies and Gentlemen today I would like to shed light to one of the dark parts of the child poverty issue right in the heart of the Europe. I have witnessed child poverty in UK especially in North East were I was educated, in Glasgow, Northern Ireland, France, even in Germany but none can be compared to what I witnessed later.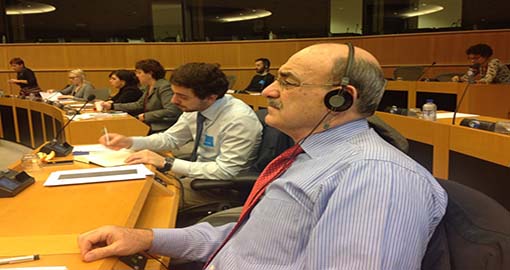 Mr. Davood Arshad, President of NTCM and ex-member of NCRI and ex-High ranking member of MEK
I as 30 years high ranking member of MEK led by Maryam Rajavi, and also ex-member of National Council of Resistance (NCRI) of MEK, am a witness to one of the organize criminal acts of child poverty enforced by MEK at least on 300 children which were smuggled from Iraq to Europe and kept in absolute isolation in places such as Germany in Cologne, UK, France and Holland,…Which was discovered by FBI.
Mek not only force separated children from their parents but deprived these children from all their rights. MEK received social benefit for these children and used it for his terrorist goals in Iraq and elsewhere even 7 years after MEK returned them by force back to Iraq and used them as Child Soldiers.
In just one instance I myself was given nearly 30000 German Marks to just buy train ticket from Bonn to Lyon for organizing MEK's gathering in 1998 out of the social security benefits MEK received on behalf of these children in Germany alone. In another instance I used 100.000 English Pounds just to ensure a concert that was organized by MEK in Earls Court London that Maryam Rajavi made a speech in.
I Iraq many of these children committed suicide under the harsh physical and psychological situations and sexual abuse some shot themselves and some set themselves ablaze. Here is the list of the systematic poverty enforced on these children: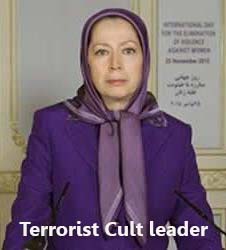 MEK Cult Leader Maryam Rajavi
Forced Separation from their Parents which many never saw their parents again either the parents or the child were killed in the terrorist activities of MEK.
The Right to Play
Isolation
Forced Labor
Denial of Education
Detainment for refusing slavery
Sexual abuse
Used as Child Soldiers
Human trafficking
The Right to Life, since they were kept under the shelling in the camps (Ashraf or Liberty) of MEK .
Subject of Torture due to refusing orders
Denial of Freedom to Move
The Right to Privacy and private reading
The Right to Seek a Safe Place to Live
Right to a Nationality
Marriage and Family
The Right to their Own Things
Freedom of Thought
Freedom of Expression
The Right to Public Assembly
The Right to Democracy
Social Security
How could we bear such a crimes to committed by MEK in the heart of Europe, while the Children in Europe experiencing hunger and deprivation as was reported by the panel due to lack of funds and yet the little funds available has been exploited by MEK in the social system of Europe in broad day light in order to systematically smuggle children from Iraq to here and having kept them in absolute isolation and smuggle them back to Iraq as soldiers for this terrorist goals. Even now after some years these Children are returned to Albania and kept at absolute isolation, under tremendous brainwash and no one is allowed to meet them even their parents.
Child poverty not only harms the children, but it destroys their future but the worst is as we have seen in the last few years provide soldiers for terrorism as in MEK or in ISIS.
I would like to suggest improving rules and regulations and controls on Terrorists and Cults such as MEK in Europe. Child Poverty and protecting the children without a political umbrella against terrorist such as MEK cannot be achieved. Politically banning terrorist Cults and organizations are the right solutions.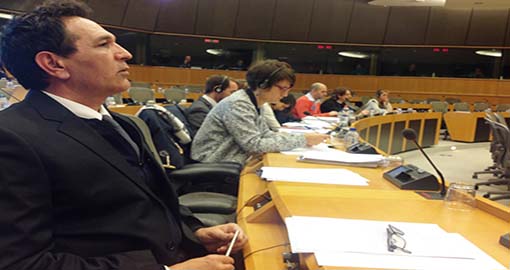 Mr. Reza Jebelli ex-member of MEK
In the afternoon session Mr. Reza Jebelli very rightly emphasized on the issue of child abuse and MEK's stealing the child benefits even seven years after these children were smuggled back to Iraq, which was discovered first by FBI and then by German police.
Conference was scheduled as follows:
Opening by MEP Udo Bullmann S&D Vice-President for Economic and Social Affairs
Panel one: Fighting against child poverty: from words to action
Moderator: Jutta Steinruck, MEP, S&D EMPL Coordinator
Education: Fosca Nomis, Save the Children Italy
Child care: Liz Gosme, Director of Confederation of Family Organisations in the EU (COFACE)
Health & nutrition: François Fille, Medicins du Monde
Housing: Shannon Pfohman, Policy and Advocacy Director, Caritas
Working poor: Daphne Nathalie Ahrendt, Eurofound Research Manager, Living Conditions and Quality of Life Unit
Q&A Session with the audience
Panel two: Framing the European Child Guarantee: policy recommendations
Moderator: Javi López, S&D MEP
Enrico Giovannini, Professor of Economic Statistics at the Rome `Tor Vergata` University
Hugh Frazer, Coordinator of European Social Policy Network / Professor at Maynooth University (Ireland)
Monica Gutierrez Arques, Research Support Officer, EU Agency for Fundamental Rights
Sian Jones, Policy Coordinator, European Anti-Poverty Network (EAPN)
Robert Anderson, Head of Unit of Living Conditions and Quality of Life at Eurofound
Q&A Session with the audience
Afternoon session:
Maria-João Rodrigues, S&D Vice-President, Rapporteur of the `European Pillar of Social Rights` report
Panel three: Preparatory Action on the Child Guarantee – Stakeholders working together
Moderator: Silvia Costa, S&D MEP, CULT Chair
Antonio Rodríguez Osuna, Mayor of Mérida
Gabriele Bischoff, President of the Workers` Group, EESC
Mathias Maucher, Policy Staff-Officer, Health and Social Services, EPSU
Jana Hainsworth, President of Social Platform, Secretary General of Eurochild
Emmanuelle Grange, Head of Unit "Disability and Inclusion", European Commission
Q&A session with the audience
Panel four: Drawing first conclusions for the implementation of the Preparatory Action
Moderator: Vilija Blinkeviciute, S&D MEP
Silvia Ganzerla, Policy director, Eurocities
Committee of the Regions PES
By No to terrorism and cults,