Argentina investigates security officers over AMIA prosecutor death
Alberto Nisman, the late Argentinean prosecutor of the 1994 AMIA bombing case. (File photo)
Ten Argentine police forces assigned to protect the AMIA bombing case prosecutor are under investigation for their activities on the day he was found dead.
The officers, together with tw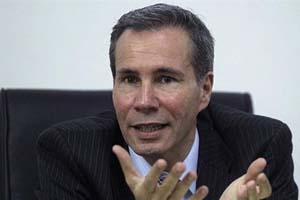 o supervisors, are being questioned as part of an internal police probe into the handling of Alberto Nisman's death, a source close to the investigation said.
According to the source, the officers are not considered suspects, but they have all been suspended from duty during the probe.
The body of Nisman was discovered on January 18 in the bathroom of his apartment in a neighborhood of the capital, Buenos Aires, with a bullet wound in his head.
The initial police report said Nisman had died of a self-inflicted gunshot wound.
On Thursday, President Cristina Fernández de Kirchner refused allegations that prosecutor Nisman committed suicide.
"I'm convinced that it was not suicide," said the president in a statement posted on her Facebook page.
Nisman's death happened hours before he was to testify in a congressional hearing about AMIA.
The "real move against the government was the prosecutor's death… They used him while he was alive and then they needed him dead. It is that sad and terrible," the Buenos Aires Herald quoted Kirchner as writing in a letter on Thursday.
In July 1994, a car bomb exploded at the building of the Argentine Israelite Mutual Association, also known as AMIA, in Buenos Aires. Eighty-five people died and hundreds more were injured.
The Israeli regime accuses Tehran of masterminding the terrorist attack. The Islamic Republic of Iran has strongly denied any involvement in the incident.