Mr Teymur Khattar and Mrs Khattar Appeal to the Iraqi legal authorities to deal with the case of the suspicious death of their son Soheyl Kattar in the base of the MKO in Iraq called Camp Ashraf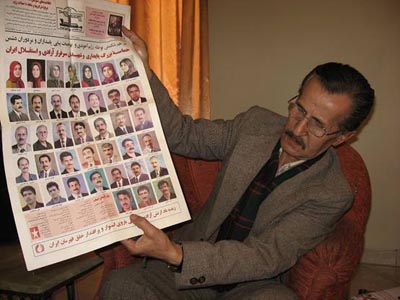 Mr Teymur Khattar (father of Soheyl)
Honourable Judicial Authority of the Republic of Iraq,
My name is Teymur Kattar. I was born in 1948 in the city of Hamadan in Iran and at the moment I live in the city of Karaj in the province of Tehran. My wife and I wish to appeal to the Iraqi security and judicial authorities to deal with the case of the suspicious death of our son Soheyl Kattar in the base of the Mojahedin-e Khalq Organisation (MKO) in Iraq called Camp Ashraf.
It is worth mentioning that Sohey Khattar left Iran legally with his Iranian passport along with my nephew Mehran Rastegar to go to Turkey to eventually go to Europe for employment. One week or ten days after their departure, my brother Manuchehr Kattar who lives in Holland contacted them and offered them a chance to go to some place to learn the language first and then move to Holland to join their uncle. But contrary to his promises they ended up in Camp Ashraf the base of the MKO in Iraq, a place which is quite hard to leave.
I was unaware of their situation for about four months until they called and told me that they are well and are busy training. We were relieved to learn that. They did not mention anything about going to Iraq and Camp Ashraf. Then they sent some letters and photographs which were posted from Europe. As I learned later my son had quarrels with the MKO officials and had asked them that he was supposed to go to Europe but now he remains in Iraq. He had even told them that he would escape from Camp Ashraf any time he finds the chance. I learned about all these through those who parted from the MKO and came back to Iran. He was even once put in solitary confinement for 48 hours just for opposing the MKO.
We had no further news from them until my brother Manuchehr called me from Holland and informed me that Soheyl was killed in a border clash four months earlier. I was quite suspicious about the reason of his death.
My wife and I along with one of our relatives went to Iraq and Camp Ashraf on the beginning of 2004. They told us a different story. While they had published my son's picture in their publication and claimed that he was killed during the bombings of Iraq, they told us that he was killed when cleaning his gun by an undesired shot under his chin.
We had gone to Iraq and Champ Ashraf to claim for the body and belongings of our son which they never let us have them and eventually we left there with frustrations. They did not even show us a picture of his body or a picture of his funeral. Someone there who I prefer not to reveal his name for security reasons (if I am assured that the person would be taken out of the MKO control I would give the name to the relevant authorities) informed me covertly that our son Soheyl was killed by the MKO since he was discontented and restless and he wanted to part from the them. This person told me that the story of undesired shot is false. Apparently our son Soheyl was eliminated because he was opposing the organisation.
My nephew Mehran Rastegar, who had left Iran along with my son and escaped later from Camp Ashraf and returned to Iran, told me the whole story from the beginning and said that they were taken to Dubai for a few days first and then to Iraq. When he returned to Iran he was suffering from psychological disorders and was completely depressed. He told us that he was continuously under mental and physical pressure in Camp Ashraf. He died two years later at the age of 25 due to heart stroke caused by all he had gone through in the MKO. Soheyl was 20 when he left Iran and was killed when he was 22.
While in Iraq, once a well build commander called Asad approached us and told us that apparently Soheyl had committed suicide. Then he said that Soheyl enjoyed high moral and was very cheerful. I asked him how a cheerful person with a high moral commits suicide. Later I found out that a girl called Alan Mohammadi was also killed exactly the same way. She was shot under her chin and they claimed that it was an undesired shot or perhaps committing suicide.
Hessam Shakeri and Bizhan Rezavandi from Karaj are amongst those who had escaped from Camp Ashraf and returned to Iran and they know about our son Soheyl Kattar. They say that Soheyl was killed by the MKO.
Now which story is true? Was he killed in a border clash by the Iranian guards as my brother told me? Was he killed under the US and its allies' bombings as published in Mojahed weekly publication? Was he killed because of an undesired shot as we were told by the officials in Camp Ashraf? Or did he commit suicide as a commander mentioned? I would say none of these stories are right and they fabricate these lies to cover the truth which is my son was killed in Iraq by the MKO.
At this moment the wish of my wife and I is to know the real cause to our son's death and we urge the judicial authorities in Iraq to investigate the reason. Our son Soheyl Khattar was killed in Iraq and it is up to the Iraqi security and judiciary officials to take up with the detection of the cause.
I must also add I was a firm supporter of the MKO in the past and I even went to Turkey and made contacts with this organisation and introduced them a few individuals. But now I hate them so much that I do not wish my son's body or any of his belongings remain with them.
Therefore I summarise my demands as follows once again and I appeal all legal authorities in Iraq to help me.
1. I appeal that the case of murdering my son Soheyl Khattar be investigated by the relevant judicial authorities in Iraq and the persons responsible be prosecuted.
2. I wish to visit one individual in Camp Ashraf that I personally encouraged him to join the MKO without the presence of the MKO officials in Baghdad or somewhere ells.
3. I would like to go to the grave of my son in Camp Ashraf and also seek his body and belongings with the aid of Iraqi officials.
Sahar (Dawn) Family Foundation, Baghdad, February 29, 2008-http://www.saharngo.com/en-articles.html
Link to the original letter (Arabic)