was open to the public from November 16 to 22. Some 470 Iranian publications and news agencies as well as media organizations from 27 foreign countries attended the event.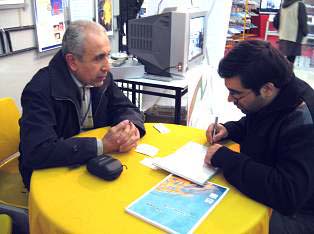 The responsible of Nejat Society introduced the Society's objectives presenting photos, brochures and publications to the visitors. They emphasized that their main goal is to help families contact their beloved ones who are captured in cult-like camp Ashraf in Iraq.
They were so eager to get information on the situation of the mentally and physically captured ones in Camp Ashraf. Most of the visitors included the students, intellectuals who had a little information on MKO. They were complaining of the lack of information on the functions of MKO in the mass media. The followings are some examples of their opinions:
– A young woman said that she has heard of MKO via internet and satellite but she always feels that they mustn't be Iranians because their speaking culture is so different from ours. "It is so strange and unfamiliar".
– A very old man came and got to know Nejat Society. At first he argued that when the enemy writes, he can write anything. But after he listened to Nejat members' explanations he had a different idea criticizing why the nature of MKO is not shown to the people of Iran completely.
– Two young girls who had no information on MKO asked a lot of questions on the cult and at last they suggested holding a seminar on this issue, with the presence of the members of Nejat Society, in their faculty.