was open to the public from November 16 to 22. Some 470 Iranian publications and news agencies as well as media organizations from 27 foreign countries attended the event.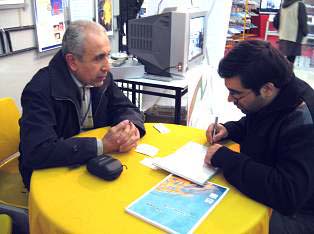 A lot of Iranian and foreign journalists and also the ordinary visitors welcomed the humanitarian objectives of Nejat Society appreciating its efforts and hoping success for it. They wanted to know how to aid the Society.
– An elderly citizen said:" I distributed Mujahed journal when I was a high school student. After sometime I got to know about their real nature due to my parents guide then I left them. I am happy that there was some one to lead me at that time but some were captured and ended with being Saddam's accomplice."
– An army officer said:"No Iranian in any case accepts cooperation with the offensive enemy. I have always considered them as traitors but I didn't know that they even have no pity for their own members and torture and imprison them.
– An elderly woman said that when she was abroad, the MKO used too much effort to recruit her but she has always felt that although MKO supporters are honest but no honesty is seen in its leaders' words and now she has understood that her feeling was definitely right.
Three people were looking attentively at a poster of self-immolation in Paris. One was explaining the story for the two others. They were so shocked and declared their hatred towards such an act done by the cult leaders to order the members to burn themselves.