The Iraqi government this week accused an Iranian opposition group of
planning a suicide attack against Iraqi troops, a possible prelude to decisive government action to close the group's camp in Iraq and expel its members.
The Mujaheddin-e Khalq, or MEK, on Tuesday denied Iraqi national security adviser Mowaffak al-Rubaie's allegation that it was planning an attack. Rubaie, who made the charge Monday during a visit to Tehran, offered no evidence to back up his assertion.
The fate of the MEK has long been an irritant in relations between the government of Iraq, which has built close ties with Iran, and the U.S. government. The MEK received support from Saddam Hussein's government and has been designated a terrorist organization by the State Department, but the U.S. military has protected the group's base in Iraq, known as Camp Ashraf, since the 2003 invasion. U.S. officials credit the MEK with providing information about Iran's nuclear program.
Iraqi Prime Minister Nouri al-Maliki wants to expel the MEK. Iraqi officials have said the group's continued presence has a destabilizing effect and hinders relations between Iran and Iraq.
The United States handed nominal control of the outer perimeter of the camp to the Iraqi government Jan. 1, when a new security agreement between the United States and Iraq came into effect. The agreement gives Iraq greater say in security matters, but U.S. officials said they intend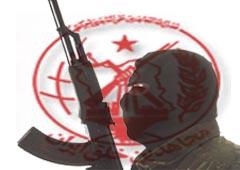 to keep a military contingent at the camp to help the Iraqi government honor its commitments to treat the group's members humanely.
In 2003, the U.S. military reached an agreement with the group that offered its members protection in exchange for their disarmament.
Rubaie told reporters Monday in the Iranian capital that"the Iraqi government has made a serious decision to expel"the 3,500 MEK members who remain at Camp Ashraf, according to a report on the Tehran Times Web site.
Rubaie's statement said a member of the organization had turned himself in to Iraqi security forces and told them that group leaders had instructed him to detonate explosives at the headquarters of the Iraqi security forces. The goal of the reported attack was to embarrass the Iraqi government, the statement said.
Maj. Neal Fisher, a spokesman for the U.S. command that has soldiers stationed at Ashraf, referred questions about the alleged plot to the Iraqi government.
The National Council of Resistance of Iran, the MEK's political wing, called the allegation a"blatant fabrication"that was part of a"conspiracy"between the Iranian and Iraqi governments to build a stronger case for the expulsion of the group.
Maliki reiterated his intension to shut down Camp Ashraf during a speech Jan. 1, saying the group's continued presence is a violation of the Iraqi constitution and troubles Iraq's neighbors.
The MEK was formed in the 1960s to oppose Shah Mohammad Reza Pahlavi, the autocratic ruler who fled a 1979 revolution led by Shiite clerics. In the 1980s, many MEK leaders moved to Iraq, where they were welcomed by Hussein, who mobilized them in his war with Iran.
Meanwhile on Tuesday, three Iraqis were killed and two U.S. soldiers wounded in an explosion in Mansour, a district in eastern Baghdad, the U.S. military said in a statement. An Iraqi police official said the explosion was caused by a car bomb that was detonated as U.S. soldiers were leaving a meeting at a government building. The U.S. military, citing"intelligence sources,"accused the Sunni insurgent group al-Qaeda in Iraq of carrying out the attack.
Earlier in the day, two Iraqis were killed in Karrada, in southern Baghdad, after a roadside bomb exploded near a convoy transporting officials from the Education Ministry.
By Ernesto Londoño