Berlin, Feb 8 – British Foreign Secretary David Miliband made clear his country's position on the terrorist nature of the MKO grouplet had not changed, despite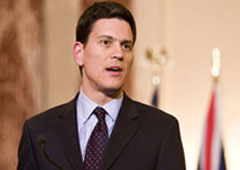 the European Union's controversial decision to remove the MKO from the terror list, IRNA reported.
Meeting with Majlis Speaker Ali Larijani on the sidelines of the 45th Munich Security Conference on Saturday, Miliband said, the position of the British government on the terrorist group, the People's Mojahedin Organization, remains unchanged.
Miliband's latest comments on the MKO came in the wake of earlier statements by Larijani who in his address to the Munich security confab on Friday voiced outrage over the West's harboring of known terrorist groups, alluding to European countries providing safe haven to the MKO.
The MKO has been involved in the mass killings of thousands of innocent Iranians over the past 30 years.
Furthermore, the Israeli-backed MKO terror grouplet had also collaborated with the former Saddam regime, massacring tens of thousands of Iraqi Kurds and Shias.