Iraqi security forces have stormed the base of the anti-Iranian terrorist group the Mujahedin-e-Khalq Organization.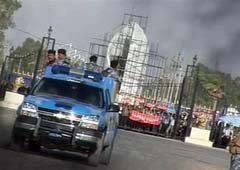 Iraqi police outside Camp Ashraf on Tuesday
An Iraqi military official has said that Iraqi forces have taken complete control of the camp.
MKO spokesman Shahriar Kia said that four people were killed and 300 wounded when Iraqi soldiers and police stormed Camp Ashraf on Tuesday, AFP reported.
The base is located in Diyala province, north of Baghdad, and is home to around 3,500 MKO members and their families.
"After the failure of negotiations with the Mujahedeen (Khalq) to enter peacefully, the Iraqi army entered Camp Ashraf with force and it now controls all of the interior and all entrances to the camp," an Iraqi military source said.
An Iraqi police official has announced that about 50 camp residents have been detained.
After the US invasion of Iraq in 2003, US troops disarmed the MKO members based at the camp and surrounded it until Iraqi forces took over responsibility earlier this year.
The MKO was founded in Iran in the 1960s, but its top leadership and members fled the country in the 1980s after carrying out a series of assassinations and bombings inside the country.
The group is especially notorious in Iran because they allied with former Iraqi dictator Saddam Hussein during the 1980-1988 Iran-Iraq war.
The United States, Canada, Iraq, and Iran have all designated the MKO as a terrorist organization.
The European Union had also designated the MKO as a terrorist organization but inexplicably removed it from the EU terror list in January 2009.
It is still not clear if the US gave Baghdad the green light to storm Camp Ashraf or if Iraqi officials took the action on their own initiative.
However, US military officials in Iraq say they were not informed about the plan until after it was carried out.
Many political analysts had said the United States had intended to use the Camp Ashraf MKO members as pawns to pressure Iran, so this development will change the political calculus of the region.