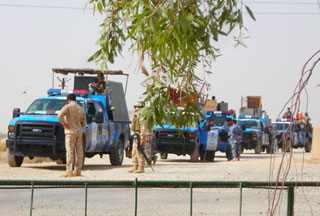 Iraqi security forces last week stormed Camp Ashraf that housed MKO members and seized control of the base.
The Iraqi government has rejected a request by the heads of the Mujahedin Khalq Organization (MKO), for negotiations, an Iraqi official says.
The official was quoted by IRNA as saying that MKO heads Maryam and Masoud Rajavi have made a request, through the intelligence organization of an Arab country, to meet with Iraqi executives.
"The Iraqi government rejects any contact and dialogue with the MKO heads, considering the terrorist nature of the organization," the Iraqi official said on condition of anonymity.
He did not name the Arab country but said that such a request, made following the Iraqi security forces' takeover of a MKO camp north of Baghdad, shows how interwoven the terrorist group is with the intelligence agency of the unnamed Arab country.
Press TV has learned that Masoud Rajavi, known as the leader of the MKO, is now based in Jordan, and that Iraqi officials have actually refused a request transferred by the Jordanian intelligence agency to negotiate with MKO leaders.
The Iraqi official went on to criticize the request by the Arab intelligence agency and its relation with the MKO, terming it interference in Iraq's internal affairs.
The MKO is listed as a terrorist organization by Iran, Iraq, Canada, and the US. It was recently removed from the category by the European Union.
Last week, Iraqi security forces stormed Camp Ashraf that housed MKO members and seized control of it.
Iraqi Minister of State for National Security, Shirwan al-Waeli, says Baghdad will not grant asylum to any Iranian living at Camp Ashraf.
The Iraqi government plans to close the camp and send its residents to Iran or a third country.
"Iraq will not give asylum (to them) as refugees in its territory and we cannot tolerate groups that cause problems in their countries of origin," Reuters quoted Waeli as saying. "We don't want problems with our neighbors."
In Iran, MKO members are regarded as traitors, especially for siding with the Ba'ath regime during the Iran-Iraq war (1980-1988).