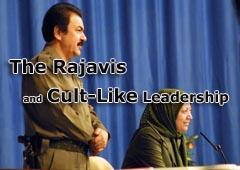 Massoud and Maryam Rajavi the cult leaders
Once in a letter addressed to Christopher George of Human Rights Watch/Middle East entitled Human Rights Abuse in Rajavi's cult, Nowrooz Ali Rezvani, a disaffected and former member of MKO, presented documented reports of many physical and psychological mistreatments of the members by the leaders within the organization. The following is a detailed and proven list of engineering operations plotted in years 1981 to 1994 in an attempt to liquidate some members for certain organizational reasons.
The confessions by Mr. Rezvani well indicates the potentiality of the organization in subjecting the life of those in Camp Ashraf to severe jeopardy through a preplanned scenario and under the cover of defending the camp against the lawful interference of the Iraqi police to take the control in its hands.
Aggressive reaction of Camp Ashraf residents to confront the Iraqi police, that in the first look may seem to be inevitable in such occasions, demonstrates covert plots that were suspended until a golden opportunity could frame all together. The warning bells had been already rang and the least the Iraqi government can do is to decrease the costs which requires considerable and deliberate prudence when dealing with such a conundrum and odious organization. Now soon after the attacks the organization has started a new round of propaganda blitz mainly focusing on the killed members; a probe into the past thirty years clarifies that it has been typical of the organization and the Rajavis to advance cultic causes by moving over the victims whose death remains a matter of obscurity. The members who are claimed to have died in clashes between Iraqi police and Ashraf residents follow the same craftily plotted scenario that grants the opportunity of helping the organization to get rid of its dissidents.
Facts revealed by former members indicate that a number of MKO members committed suicide because they were prevented from leaving the organization and that suicide was also claimed as the cause of death for recalcitrant members who had to be erased. Once more, we forewarn the international organizations and bodies of the repetition of past incidents that can be best judged by the members themselves; does it sound believable that the members' death in any form has merely been accidents? Mr. Rezvani's references to some of these deaths within MKO can provide some answer to some degree.
The first floor in Camp Shafaee located in Kirkuk
A woman called Nahid dropped to her death falling out of the first floor of a building of Camp Shafaee located in Kirkuk, Iraq. She was announced to have committed suicide. According to MKO, she was psychologically ill and her suicide was identified the result of her nurse's negligence.
Baghdad, Iraq, 1976
A woman named Zahra was designated to work as a kitchen porter in Camp Saadati after she was demoted of her organizational rank. Later, her frozen body was found in the refrigerator.
Sardasht, Kurdistan, 1986
In Sardasht zone, a man from southern Iranian province named Abbas was shot deliberately by his commander as reported by eye-witnesses. He was an old member of the organization and opposed to inter-organizational relations. He had long been watched and sent to the military section as a punishment where he was then liquidated through a plot.
Kirkuk, Iraq, Debs Prison
Mohammad Gamoush imprisoned in section 200 of Debs Prison was found hanged. The organization buried his body behind the walls of the section 200 of Debs Prison.
Kurdistan, Iran-Iraq borderline, 1987
Hassan Muhammadi, a member of MKO, is suspiciously drawn in the border river Zab. He had been condemned to death by the inter-organizational court located in Iraqi soil. Suffering long days in a prison located in Kurdistan, Iraq, he was transferred to Mesbah Prison in Suleymanieh where he managed to escape in an attempt to make contacts with the organization's rankings and even the leader himself in Baghdad to inquire why he had been condemned to death and imprisoned.
For the second time in Camp Saadati in Baghdad he stood trial and again Abbas Davari and Muhammad Hayati condemned him to death and imprisonment. On Rajavi's order his death verdict was commuted and he was employed in a transportation stock as a simple worker where he had to stay day and night. Two times he was violently attacked and beaten by Mojahedin thugs, two of whom can be named as Hassan Tahmasebi and Mashaallah from Tehran. Muhammadi was then dispatched to the organization's military section where he was ostensibly drawn in the River Zab overnight. He was an old member of MKO and imprisoned in the Pahlavi's regime. His brother was a ranking member and had detached from the organization in 1978 after being released from the prison.
Khalis Province, Iraq, Camp Ashraf 1991
A man was found smothered with a handkerchief in his mouth in a resident prison in Camp Ashraf. His body was found while they were checking and inspecting residential.
Two other women died in suspicious and the organization announced they had committed suicide by taking cyanides while access to such toxic substances was impossible in Camp Ashraf. The two were dissidents who intended to leave and had refused the ideologically enforced divorces.
A recalcitrant member had announced his separation; his head was crushed between two military IFA trucks in regiment 96. The organization announced his death an accident as a result of cloud and the darkness.
In 1991, nearly 1000 dissident members ran a hard life in the camps' jails as well as Saddam's notorious prisons where they spent weeks and months in solitary confinements. At the end it was the awful camp in Romadi that awaited the dissident, a fearsome place where Rajavi had sworn to banish the dissident, where they would pray one thousand or one million times a day to die and would see and touch death in any moment.
And so it was that a dissident named Javad failed to tolerate the rough condition dominating the camp and hanged himself before the Office of the Refugees' Affairs just before the eyes of his comrades. Many reports have been so far directed to you concerning the act and I deem it necessary to unveil some facts about a number of murders committed by MKO.
In May 1984 in Paris, a woman named zhale commits suicide by jumping before a train to show her opposition to MKO's internal ideological revolution and Masoud Rajavi's leadership. She had been under psychological pressure by her organizational supervisors.
In 1984 in Kurdistan, Iraq, a MKO's military commander, called Abbas, shots a dissident back in the head causing his immediate death. The murderer is still in the organization.
In 1984 in Kurdish zone of Iranian Sardasht-Baneh, for three times the injured, captive forces of Iranian army were machine-gunned on the command of a MKO's commander named Nasser Gestapo.
In 1983 in Kurdish zone of Iranian Sardasht, Zamziran Village, a wounded POW was machine-gunned by a commander of MKO named Yahya from Zanjan.
In 1983 in Kurdish zone of Iranian Sardasht, Kavalan Village, two wounded POWs were machine-gunned by a commander of MKO's operation team named Hadi Gestapo.
In 1984 in Kurdish zone of Iranian Bukan, two wounded POWs were machine-gunned by a commander of MKO named Reza Sanandaji.
In 1986, Baghdad, Iraq, Mojtaba Mirmiran, a member known to be poet working in the propaganda section of the Voice of Mojahed, was found hanged in Camp Mirzai located in Baghdad, Al-Saadun St. He was one of those recalcitrant members strongly opposed to Rajavi's leadership. The organization announced his death another case of suicide.