Once in a letter addressed to Christopher George of Human Rights Watch/Middle East entitled Human Rights Abuse in Rajavi's cult, Nowrooz Ali Rezvani, a disaffected and former member of MKO, presented documented reports of many physical and psychological mistreatments of the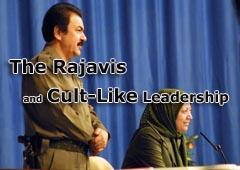 members by the leaders within the organization.

The following is a detailed and proven list of engineering operations plotted in years 1981 to 1994 in an attempt to purge some members for certain organizational reasons. The confessions by Mr. Rezvani well indicates the potentiality of the organization in subjecting the life of those in Camp Ashraf to severe jeopardy through a preplanned scenario and under the cover of defending the camp against the lawful interference of the Iraqi police to take the control in its hands.
It was a detailed account of human rights violation and now let's point to some indications of Mojahedin's inter-organizational relations to develop a better understanding of its anti-human nature and to what degree it respects the principles of democracy and human rights.
In winter 1982, Mojahedin Khalq forces stationed in the northern Kurdistan executed three POWs, one of them underage. The commander on the scene were Mr. Mesbah, a member of the central cadre, Mr. Assad, a deputy of the organization's leadership from Tabriz. The commander of the firing squad was Qudrat-allah Heidari and the firing party was constituted of Mr. Karim Turk and a woman whose son had been executed by the Iranian regime.
In Spring 1984, four more POWs were executed in Kurdistan border zone, the jungles of Shah Nosqeh region just in the vicinity of Pazhveh Village. The executioners were Morteza, working in armory, from Hamada, Naser Turk known as Naser Gestapo, Karim Turk from Tabriz known as Karim fascist, Mr. Assad from Tabriz, Mahdi from Hamadan, and Reza Karam-Ali also known as Yaqub from Tehran.
In 1984, six dissidents were executed in the jungles of Shah Nosqeh region in Kurdistan as they were opposed to Rajavi's announced imamate. The executed were pseudonymously called Saeed from Tabriz, Qasim from Zanjan, Naser from Shiraz, Rasoul from Kermanshah, Qulam from the northern Iran, and Suhrab from Tehran. The executioners were Karam from Hamadan, Reza Karam-Ali from Tehran, Naser Turk, Karim Turk and Ibrahim Zakeri, the commander of the execution.
In 1985, more than 700 members of the organization were imprisoned in the Iraqi Kurdistan region in jails located in suburb Saveh, Kahrizeh, and Camp Ghayur. Other imprisoned were some members of political bureau and central council including Ali Zarkesh along with other 117. They were all condemned to death and following their preliminary investigations they were sent to prisons in Suleymanieh.
In 1985, more than 50 recalcitrant members of the organization were imprisoned in the Iraqi Kurdistan city of Suleymanieh and built jails in camps Mesbah ans Ghayur. Some were also imprisoned within the safe houses in Kirkuk.
In 1990, more than 500 recalcitrant members of the organization were imprisoned in the castle-like Debs Prison in the vicinity of Kirkuk. The prisoners' seven day-long hunger strike is an indication of their protest to drastic shortages and harsh prison condition.
In 1991, there were numerous jails and cells inside Camp Ashraf, some of them were the prison of the municipal building, the prison of college, the prison behind the rifle range, the residential prison, and prison H which was one of the most horrible solitary confinements with cell cages in size of graves, there were other prisons in headquarters and army regiments as well.
In 1992, there were prisons and safe-houses set up around Baghdad including prison Muhammad zabeti, prison Saadati, prison Seifi, prison Akbarzadegan, prison Malik Marzban, a prison known as the camp of the members of the National Council of Resistance close to American Embassy, prison Mirzai, prison Dr. Muhammad Tabatabai, prison Rezai, and more.
Pakistan, 1987. Asghar Mirzai working in the Voice of Mojahed from the northern Iran was sent to Pakistan after engaging in some inter-organizational friction. After a while the organization announced that he had broken with the organization and had reported information about the camps of the National Liberation Army and headquarters of leadership to Iranian regime. Still the members were digesting the story that there came the news of his assassination by the regime. His wife was in a state of mental imbalance since it remained an unsolved question why her husband was killed soon after his separation.
Explanation: Asghar had been long working in Rajavi's private bastion known as Camp Badi-zadegan located 45 km. west of Baghdad in Abu-Ghurib region where he made programs for the Voice of Mojahed. Thus, he had proven information concerning Mojahedin's implication in Haj massacre and he was also the link between the Voice of Mojahed's broadcasts and the Iraqi regime.
Of other obliterated members to name was Bahram Turk from Tabriz who worked in Rajavi's private bastion known as Camp Badi-zadegan located 45 km. west of Baghdad. He knew anything about Rajavi's residential and its secrets. Later, he was identified as a troublemaker and was degraded to work as a simple gardener in Rajavi's private courtyard. It did not take long to be announced that he had been found drowned in the camp's pool. He was reported to have fallen into the pool and drowned as he could not swim and there was nobody around to help him. Bahram was a real source of information and knew things about the organization's association in Haj massacre. His wife was six month pregnant when he died and the baby was named Bahram after him.
Explanation: Reza Asadi was once a pilot in IR Air Force who had his hand in the escape of Dr. Banisadr and Masoud Rajavi from Iran. He was a comrade working close with Bahram and knew him well. A detached member, now he is living in Netherlands. In a letter to a friend, he gave some details about Bahram's skill in swimming.
On the day we met, we talked about the article you penned for the Nimrooz. Now I try to give some details. For two years I was working with Bahram in a garage in Baghdad. He was one of those who lacked the proficiency to be invested with responsibility but was enthusiastically devoted to Maryam (Rajavi) and was ready to dive through a window hearing her name. The devotion branded him an ideological element with consequent conferred responsibilities. They say he was drowned in an ordinary pool. Your article in the Nimrooz made me recollect a joint travel I had with Bahram. We were en route to Kirkuk from Baghdad on a hot summer day in month Ramazan. We stopped the car on the bank of river Takrit, a big, rapid and raging torrent, to swim. I am a good swimmer and can swim in any condition.
But Bahram was many times better and swam easily in the deepest part of the river where hardly anybody, and even me, could swim. He swam so comfortably as if he was lying on a soft, flat mattress enjoying himself.