Link to the full report (PDF)
Iran-Interlink.org has published a second report on Camp Ashraf, Iraq and the situation of Mojahedin-e Khalq (aka MKO, MEK) cult members at the camp. After consultation with the Government of Iraq, Massoud Khodabandeh has described events since January 1, 2009.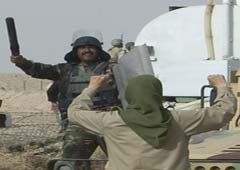 According to the report, Iraq is determined to rid itself of the foreign terrorist cult led by Massoud and Maryam Rajavi as soon as possible, but is hampered by western intransigence over where these people should go.
The 3416 individuals inside Camp Ashraf have no legal status in Iraq. They are not entitled to 'protected persons' status under the Fourth Geneva Convention. Neither will they be granted political refugee status by Iraq. Nor will Iraq forcibly repatriate them. But, although the MKO has been de-proscribed, at its own behest, as a terrorist group in Europe, no western country is willing to offer asylum to the individuals — even though 1015 MKO members have a passport or residence permit of a third country. After months of fruitless negotiations with MKO leaders — with U.S. observation — a police post was established inside Camp Ashraf at the end of July. In spite of violent resistance by the MKO which led to 11 deaths, the camp residents are now subject to Iraqi law. Following evidence that MKO leaders were committing widespread and systematic human rights abuses inside the camp, the Iraqi Human Rights Ministry, in conjunction with international humanitarian agencies, is now set to properly monitor activity at the camp.
Massoud Khodabandeh made several recommendations in his report. The Government of Iraq should remove around seventy MKO leaders in order to protect the rank and file members from human rights abuses and coercion. The camp must be thoroughly searched — something the U.S. Army failed to do since 2003.
Stressing that western governments bear a responsibility toward the MKO's victims trapped inside Camp Ashraf, Mr. Khodabandeh says that western politicians must prevent further political abuse of MKO members by the Rajavi leadership and guarantee the rights of those individuals who renounce violence and are willing to return to society. European governments should work with Iraq and the UN to find third countries to which other individuals in Camp Ashraf can be transferred.
For more information contact: Anne Singleton +44 (0) 113 278 0503
Link to the first report:
https://www.nejatngo.org/en/posts/1710