President of the Maysan province said on Thursday, the local government refuses to take the PMOI base in the province, that its presence on Iraqi territory is illegal.
Abdul Hussain Abdul Rida Saadi told a news conference, attended by an Aswat al-Iraq reporter,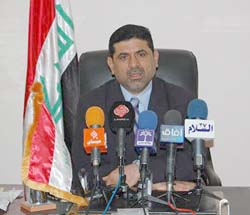 that the local government in Maysan "rejects any presence of the PMOI on its territory due to the fact that its presence in Iraq is illegitimate," adding that the decision "taken by the Council, after receiving information that that the province of Maysan is a candidate among the three areas in Iraq to embrace the organization."
He pointed out that "the organization had a major role in suppressing the popular uprising that began in some areas of Iraq, including the province of Maysan," adding that "they had killed many people of the province during the popular uprising."
Moreover, a member of the security committee of the Board of Maysan, Maytham, told Aswat al-Iraq that "the presence of the MKO on the territory of Iraq is a violation of the constitution as a terrorist organization," indicating that the group "had a role in putting down the popular uprising in 1991 and killing of large number of rebels who were expressing their rejection of the policies of the former regime."
He pointed out that "There are documents and documentary tapes which stress that the organization carried out terrorist acts against people of the province and in coordination with the previous security which was aimed at the elimination of rebellion."
He stressed, "We as a local government, call for the expulsion of the organization from all Iraqi territory due to the fact that their presence is illegal and therefore contact with foreign countries should facilitate the deportation process."
The town of Amara, Maysan province, 390 kilometers south of Baghdad.
translated by Iran-Interlink